10 things you probably didn't know about Aleix Espargaro
The second eldest rider in the paddock, you can get to know the Aprilia Racing rider a little better
Aleix Espargaro is one of the most recognizable faces in the paddock, having made his premier class debut way back in 2009. With nearly 200 MotoGP™ starts to his name, the Aprilia Racing star is the second eldest rider on the grid, but do you know everything there is to know about him? Here are 10 things you probably didn't know about Aleix Espargaro.
1. Espargaro has started 197 premier class races. Provided all goes as expected, he will reach a double century at the Argentinian GP in April. Across MotoGP™, 250cc and 125cc, he has competed in 281 races since 2004.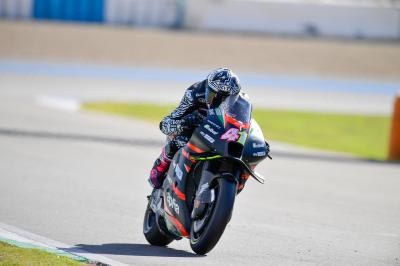 2. Throughout the majority of his racing career, Espargaro has had the number 41 printed across his front fairing. He chose it in tribute to Youichi Ui, a two-time 125cc Championship runner up, who he hails as a major influence during his early years on the circuit.
3. Espargaro is a cycling fanatic and likes to collect bikes from famous cyclists while he harbours dreams of turning professional in the sport. He recently competed pro-event in the Challenge de la Plana in Spain, claiming fourth in the third stage of the competition. If given the chance, he would also happily trade places with Enric Mas, a Spanish cyclist, for a day.
4. No stranger to tattoos, Epsargaro has six different inks on his body. His favourites are the initials of his wife, Laura, inside a heart, and the motto to 'Always believe in yourself.'
5. Growing up in Granollers, the sound of MotoGP™ engines were never far away as Circuit de Barcelona – Catalunya was always within spitting distance. It comes as little surprise then that he took in his first-ever live race at Montmelo, nor that it is his favourite circuit on the calendar.
var videoContainer; var modeAnalytics = false; var mode="demand"; var nid="383375"; var livetest= true; var lang = "en"; var messageToWatch = ""; var extendedMode = true; var optionSelected = "0";; var youboraActive = true; var analyticsDBIActive = "true"; var optionMeta="hdn"; var dornaAccount = "dorna"; var broadcaster = "0"; var claims_url = ""; var noRegister = ""; var subscribe = ""; var urlMeta = "";
// var externalbalancing = true; //get value from perms
window['flashvars_383375'] = multilive_url : '', broadcaster : broadcaster, optionMeta : optionMeta, baseURL : base_url + "/", secureURL : "https://secure.motogp.com" + "/", to : "", streamType : mode, uid : uid, nid : nid, optionSelected : optionSelected, url_claims : "", href_claims : location.href, referer : location.href, preroll : "", lang : lang, youboraActive : youboraActive, analyticsDBIActive : analyticsDBIActive, dornaAccount : dornaAccount, autoplay : false, alternative : false, skinName : 'motogp' ;
var params = menu: "false", wmode:"opaque", allowfullscreen: "true", bgcolor: "#000", allowscriptaccess: "always" ;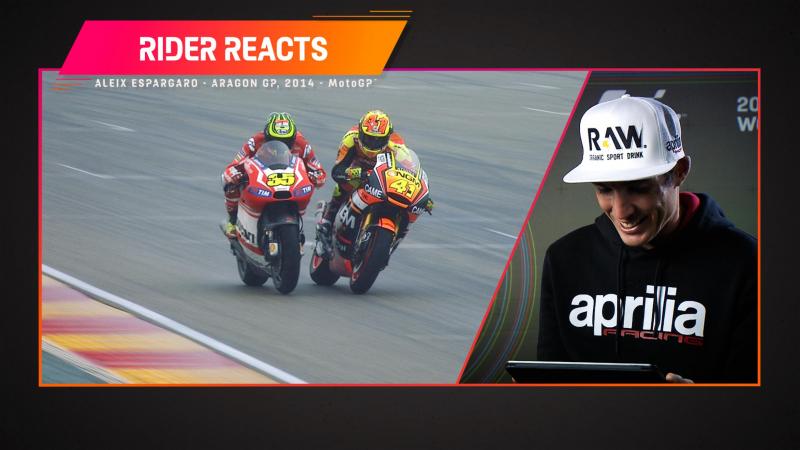 RIDER REACTS: Aleix Espargaro and his first MotoGP™ podium 06/08/2021
6. While his home track may be a regular on the calendar, Espargaro would love to see MotoGP™ make a return to Welkom in South Africa. The Aprilia rider just missed out on competing at Phakisa, making his World Championship debut at the Valencia season finale in 2004, the last year the South African destination formed part of the calendar.
7. For those who follow Espargaro on social media, you will already be aware of his love for food. Often posting some of his healthier diets online, the Catalan does allow himself some guilty pleasures in the kitchen. A fan of Japanese specialities like sushi and Italian classics pizza and pasta, it's fried chicken which tops his cheat meal list. Though, if it came down to it, he would choose sushi if that was the only thing he could ever eat again.
8. The Aprilia rider also fancies himself a bit of a chef in the kitchen, and is confident he could do well on the reality TV cooking show Masterchef if handed the chance.
9. Lorenzo Savadori, Aprilia's Test Rider, and Matteo Baiocco, who Espargaro has worked with in the past, would make up the number 41's dream coaching ticket. He is also thrilled at being reunited with Maverick Viñales at Aprilia, believing he is the best teammate he could have asked for.  
10. Aleix's favourite memories so far from the paddock are of the podiums earned at Catalunya in 2011, Aragon in 2014 and Silverstone in 2021. This is in addition to seeing his younger brother Pol Espargaro (Repsol Honda Team) crowned Moto2™ World Champion in 2013. In terms of his favourite moment in MotoGP™ history? Well, he says that it still has to come for him…
VideoPass allows you to watch every single second of every single sector LIVE and OnDemand. VideoPass offers you unrivalled access to interviews and features as well as every competitive lap at every Grand Prix. VideoPass is also available on the MotoGP™ app for iOS and Android, while you can also watch LIVE or OnDemand content with Roku TV, Apple TV, Android TV or Amazon Fire TV.

More than 45,000 videos dating back to 1992, with a comprehensive back catalogue of MotoGP™ coverage including full races, interviews, summaries, reports and documentaries, are at your disposal - when you want, where you want.
Different camera feeds and OnBoards allow you to choose your preferred viewing experience, and to enjoy the race from so many angles. SIGN UP NOW