10 things you probably didn't know about Alex Rins
Get to know the Spaniard a little better after he has signed a two-year deal with LCR Honda
Alex Rins (Team Suzuki Ecstar) is on the move to LCR Honda in 2023, with the Spaniard signing a two-year deal with the Japanese marque's satellite team. An established name in the premier class, it's an exciting move for both parties, with the three-time premier class race winner bringing a wealth of experience to Lucio Cecchinello's outfit. Ahead of the move, get to know the number 42 a little better with some facts you may not have known!
1. Rins and his wife own three dogs: Olivia, Pepe and Paco. Olivia is a Weimaraner, Pepe is a Poodle and Paco is a French Bulldog. The trio even have their own Instagram page and have over 2,000 followers!
2. If he could enter any television show as a contestant, Rins would love to take part in the cult classic Takeshi's Castle. Notoriously difficult to succeed at, could the Spaniard be able to conquer the castle?
3. Rins is a huge Simpsons fan, so much so that'd he love to play the role of Bart Simpson if they ever created a live-action version of the show.
var videoContainer; var modeAnalytics = false; var mode="demand"; var nid="407809"; var livetest= true; var lang = "en"; var messageToWatch = ""; var extendedMode = true; var optionSelected = "0";; var youboraActive = true; var analyticsDBIActive = "true"; var optionMeta="hdn"; var dornaAccount = "dorna"; var broadcaster = "0"; var claims_url = ""; var noRegister = ""; var subscribe = ""; var urlMeta = "";
// var externalbalancing = true; //get value from perms
window['flashvars_407809'] = multilive_url : '', broadcaster : broadcaster, optionMeta : optionMeta, baseURL : base_url + "/", secureURL : "https://secure.motogp.com" + "/", to : "", streamType : mode, uid : uid, nid : nid, optionSelected : optionSelected, url_claims : "", href_claims : location.href, referer : location.href, preroll : "", lang : lang, youboraActive : youboraActive, analyticsDBIActive : analyticsDBIActive, dornaAccount : dornaAccount, autoplay : false, alternative : false, skinName : 'motogp' ;
var params = menu: "false", wmode:"opaque", allowfullscreen: "true", bgcolor: "#000", allowscriptaccess: "always" ;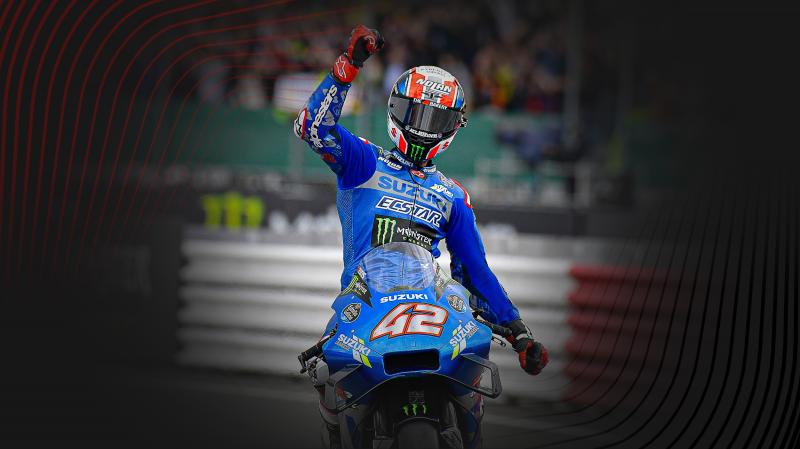 In conversation with… Alex Rins 01/03/2022
4. Make sure you take a close look inside the Suzuki box the next time he's heading out for a session because Rins has lots of superstitions. As an example, he'll only ever put his right glove on first. Can you spot any more?
5. The number 42 fancies himself as a bit of a cook. He claims he can make the world's best pizzas, so I guess that's everyone round the Rins household after his next MotoGP™ win.
6. Rins and his teammate Joan Mir have a great relationship, so much so that they live fairly close to eachother in Andorra. But if the 26-year-old could choose any former rider as a teammate, he'd go with Dani Pedrosa.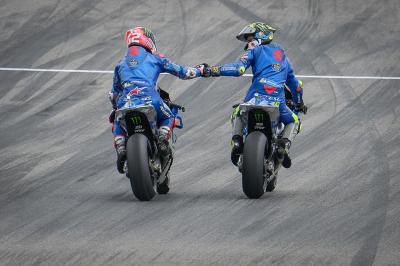 7. This one will come as no surprise, but, as he's the only man to have taken victory in all three classes at the Circuit of the Americas, Rins loves visiting the USA. As a result, he'd love to add Laguna Seca to the calendar next year.
8. Rins' favourite childhood memory was when he was just three years old. His mum and dad got him a quad bike and guess what the make of the quad was? That's right, Suzuki. It was written in the stars he'd be a member of the blue brand.
9. Ok, Alex. What are your three dream dinner guests? Spanish superstar Rosalia, rap legend Drake and Manchester United's Cristiano Ronaldo. What a trio.
10. Finally, there are not many things that scare our fearless MotoGP™ stars. Expect one thing for Rins: spiders. The Spaniard hates our eight-legged friends.