10 things you probably didn't know about Jorge Martin
Celebrations, promises and tattoos! Get to know the 2021 Rookie of the Year a little better
There's no doubt Pramac Racing's Jorge Martin is one of the paddock's brightest talents. The 2021 Rookie of the Year stormed to one win, three podiums and four pole positions in his debut year and is considered by some an outside shot for the 2022 title.
Many fans and pundits are already acutely aware of this, but what about some of the lesser known facts about the Spaniard? Here are 10 things you may not have known about Jorge Martin.
1. If you follow Martin on social media, you may already be familiar with his pet dog, named Kuala. The beagle makes frequent appearances on his posts and got her name from Kuala Lumpur, the capital city of Malaysia, where Martin became Moto3™ World Champion.  Kuala's social media presence is quite big, as she even has her own Instagram account!
2. Martin's first premier class victory came at the Red Bull Ring at the Styrian GP, and an image of him draped in the Spanish flag with the Osborne bull lives long in the memory. The flag is synonymous with Madrid born riders, and it's one that his parents, Angel Martin and Susana Almoguera, have brought to circuits since 1987 as they cheered on Spanish riders, with a special dedication to 1999 World Champion Alex Criville. The flag began to grab headlines as early as 2018, when Martin carried it with him on his lap of honour after sealing Moto3™ title success in Sepang.
3. During the Covid-19 global pandemic, many riders had plenty of spare time on their hands as the world shut down in an attempt to deal with the virus. During his extended time off, Martin used the time to further himself and study nutrition, something he feels is vital to his career, believing "it is very important for a sportsman to know what he eats and why."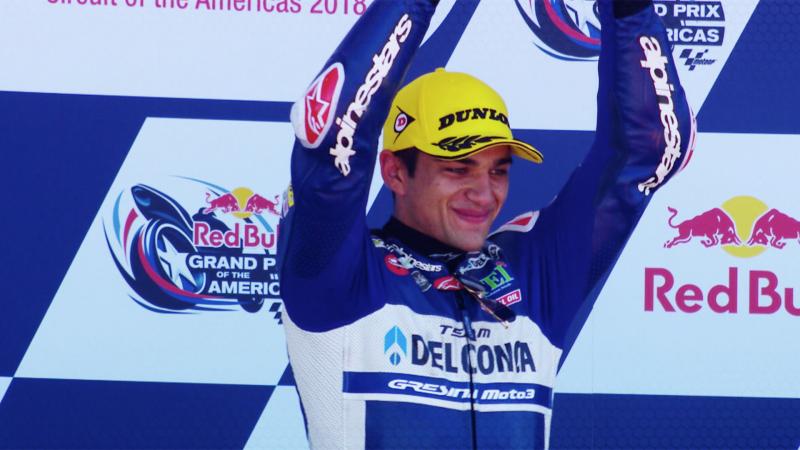 #Mart1nator! Jorge Martin conquers the lightweight class! 04/11/2018
4. Martin's on track talents are plain to see, but he has some hidden ones too! Living in Andorra, the Pramac Racing rider is a regular on the slopes and a talented snowboarder.
5. Though he dons 89 on his front fairing, his preferred number is 88 but it was already occupied by Miguel Oliveira (Red Bull KTM Factory Racing) when he graduated to MotoGP™. The Spaniard also has 15 tattoos on his body, ranging from a variety of animals to different slogans, but his favourite one is 080821, which is the date of his very first premier class win from the Styrian GP.
6. A career in motorcycle racing wasn't always on the cards for the Spaniard. As a youth, he tried his hand at martial arts while he maybe could have emulated Rafa Nadal on the tennis court. In the end though, we feel he made the right choice to follow his two-wheeled dream.
7. Martin also has a big personality, which shone over onto the track in his rookie year. Off of it, he has cultivated several friendships within the paddock, particularly with Aleix Espargaro (Aprilia Racing), with the two regularly go out cycling and training together.
8. From a young age, it was clear that Martin had star talent, while he also kept some good company. At his very first MotoGP™ race in 2006, he met with a certain Valentino Rossi ensuring it would prove an unforgettable experience. He is also appreciative of the genious of others, claiming he would love to have the likes of Jorge Lorenzo and Casey Stoner mentoring him in the box.
9. Despite a successful rookie season, 2021 was a year of ups and downs for Martin, with a Portimao crash leaving him scarred physically as well as mentally. Past hardships helped him get through a dark time. In 2013, financial struggles and a lack of sponsors meant it could have been entirely possible that we would have never seen Martin on the world stage, but he came through that experience stronger, being crowned the Red Bull Rookies Cup Champion a year later. The Spaniard has always been grateful to those working around him who made what he has achieved possible.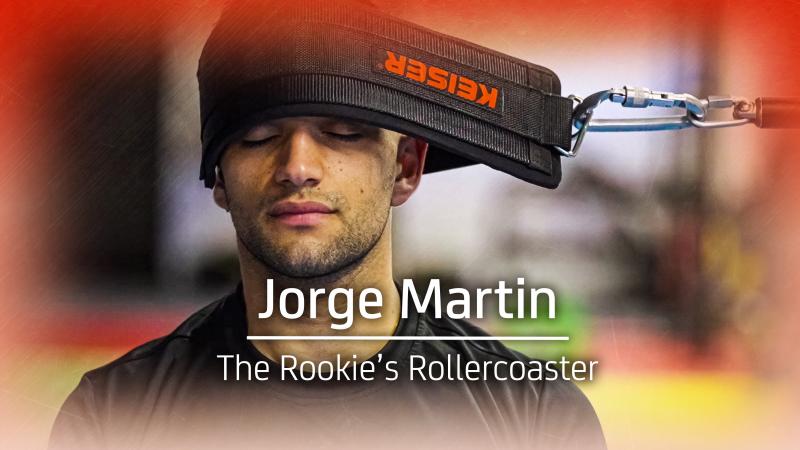 MotoGP™ Stories: The Rookie's Rollercoaster 16/06/2021
10. From a moment of despair, to utter joy. After his injury struggles, Martin promised his team that he would take them on a trip to Punta Cana if he achieved a podium finish in the second half of the season. The Styria GP victory saw his garage erupt in chants of 'Punta Cana, Punta Cana!' Martin even admitted that it was on his mind for the final few laps of that race, adding to his nerves. Thankfully, he held on and proved a man of his word.
VideoPass allows you to watch every single second of every single sector LIVE and OnDemand. VideoPass offers you unrivalled access to interviews and features as well as every competitive lap at every Grand Prix. VideoPass is also available on the MotoGP™ app for iOS and Android, while you can also watch LIVE or OnDemand content with Roku TV, Apple TV, Android TV or Amazon Fire TV.
More than 45,000 videos dating back to 1992, with a comprehensive back catalogue of MotoGP™ coverage including full races, interviews, summaries, reports and documentaries, are at your disposal - when you want, where you want.Different camera feeds and OnBoards allow you to choose your preferred viewing experience, and to enjoy the race from so many angles. SIGN UP NOW