10 things you probably didn't know about Luca Marini
Fresh from signing a new one-year deal with Mooney VR46, find out a little bit more about the likeable Italian
Another piece of the 2023 MotoGP™ puzzle has fallen into place after Mooney VR46 Racing confirmed Luca Marini will be staying for at least one more year. The Italian is arguably in the best form of his premier class career right now after back-to-back fourth places finishes at the Austrian and San Marino Grands Prix. So, why not find out a little bit more about the man of the hour.
1. If Marini wasn't a MotoGP™ rider, he says he would like to have been an astrophysicist.
2. The Mooney VR46 rider has two dogs at home called Chanel and Wendy.
var videoContainer; var modeAnalytics = false; var mode="demand"; var nid="435069"; var livetest= true; var lang = "en"; var messageToWatch = ""; var extendedMode = true; var optionSelected = "0";; var youboraActive = true; var analyticsDBIActive = "true"; var optionMeta="hdn"; var dornaAccount = "dorna"; var broadcaster = "0"; var claims_url = ""; var noRegister = ""; var subscribe = ""; var urlMeta = "";
// var externalbalancing = true; //get value from perms
window['flashvars_435069'] = multilive_url : '', broadcaster : broadcaster, optionMeta : optionMeta, baseURL : base_url + "/", secureURL : "https://secure.motogp.com" + "/", to : "", streamType : mode, uid : uid, nid : nid, optionSelected : optionSelected, url_claims : "", href_claims : location.href, referer : location.href, preroll : "", lang : lang, youboraActive : youboraActive, analyticsDBIActive : analyticsDBIActive, dornaAccount : dornaAccount, autoplay : false, alternative : false, skinName : 'motogp' ;
var params = menu: "false", wmode:"opaque", allowfullscreen: "true", bgcolor: "#000", allowscriptaccess: "always" ;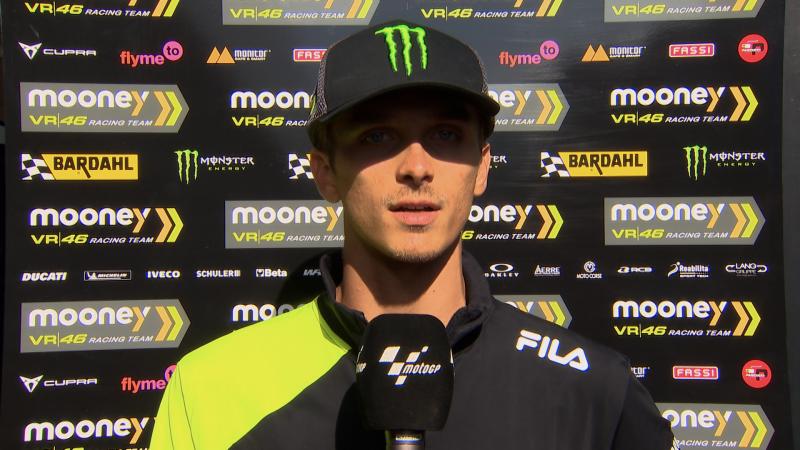 FIRST WORDS: Marini talks his "love" for Mooney VR46 09/09/2022
3. He speaks five languages: Italian, English, Spanish, French and… Polish!
4. Not only is the Italian a linguist but he's also a musician as well. In his spare time he plays the flute.
5. Unsurprisingly, as a child Marini had photos and posters of his brother, Valentino Rossi, over his bedroom wall.
6. However, if he was to pick any rider from the past to be teammates with he wouldn't go with his brother. He'd instead team up with Dani Pedrosa.
7. But to keep in his brother's good books, Marini says his favourite MotoGP™ moment of all-time was The Doctor's last lap, last corner move on Jorge Lorenzo at Catalunya in 2009.
8. If he could add any circuit to the MotoGP™ calendar, he'd go with the iconic Italian circuit Imola.
9. He's promised that if he one day becomes MotoGP™ World Champion then he'll get his first tattoo and have it on his neck of all places.
10. Marini's go-to cheat meal after a good result is a crepe with Nutella.