10 things you probably didn't know about Remy Gardner
Learn something new about KTM's loveable Aussie and the reigning Moto2™ World Champion
Tech3 KTM Factory Racing's Remy Gardner is a name familiar to many MotoGP™ fans. Not only is he the son of MotoGP™ Legend Wayne Gardner, but also a Moto2™ World Champion in his own right. The Australian is a real character, with plenty of interests away from the circuit. So here are ten things you probably didn't know about Remy Gardner.
1. If Remy wasn't a rider, then he'd be working on cars in some capacity. He's a talented welder, plus he thinks he'd look into fabrication and engineering.
var videoContainer; var modeAnalytics = false; var mode="demand"; var nid="364084"; var livetest= true; var lang = "en"; var messageToWatch = ""; var extendedMode = true; var optionSelected = "0";; var youboraActive = true; var analyticsDBIActive = "true"; var optionMeta="hdn"; var dornaAccount = "dorna"; var broadcaster = "0"; var claims_url = ""; var noRegister = ""; var subscribe = ""; var urlMeta = "";
// var externalbalancing = true; //get value from perms
window['flashvars_364084'] = multilive_url : '', broadcaster : broadcaster, optionMeta : optionMeta, baseURL : base_url + "/", secureURL : "https://secure.motogp.com" + "/", to : "", streamType : mode, uid : uid, nid : nid, optionSelected : optionSelected, url_claims : "", href_claims : location.href, referer : location.href, preroll : "", lang : lang, youboraActive : youboraActive, analyticsDBIActive : analyticsDBIActive, dornaAccount : dornaAccount, autoplay : false, alternative : false, skinName : 'motogp' ;
var params = menu: "false", wmode:"opaque", allowfullscreen: "true", bgcolor: "#000", allowscriptaccess: "always" ;

Continuing the family tradition: Who is Remy Gardner? 19/03/2021
2. Gardner has one dog, a Boxer called Bella. His dog is a bit of a training partner for him as well, with the pair spotted climbing the Andorran mountains together on a regular basis.
3. Like most riders, the 24-year-old has a superstition for race day. Without fail, Gardner will slip into a red pair of underwear to make sure he's ready for battle.
4. He's got a collection of classic cars that he works on himself in between Grand Prix weekends.
5. We normally think MotoGP™ riders are fearless, but Gardner says his biggest fear is heights. 
6. He's definitely up for a good time, as if the Australian could pick any rider from the past to be teammates with he'd go with his compatriot The Go-Show, Anthony Gobert.
7. Gardner's best friend in the paddock is Dakota Mamola. Both Gardner and Mamola grew up in the paddock together as the sons of legendary riders, so no surprise that the pair remain great mates now.
8. Ahead of getting his elbows out on the opening lap of a MotoGP™ race, Gardner gets himself in the zone by cranking up some heavy metal music.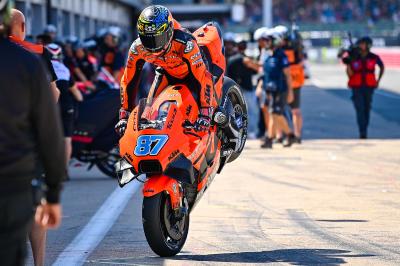 9. There's only one thing on the KTM rider's mind post-race, his favourite meal: a burger and a beer.
10. Gardner's favourite TV show is The Office, the American version, and his favourite fictional character is the hilarious Michael Scott.