A hero's welcome: Chantra honoured by Thai officials
The Moto2™ star met with a host of key government figures at a ceremony in his home country
The Minister of Tourism and Sports of Thailand held a press conference to welcome Somkiat Chantra (Idemitsu Honda Team Asia), the Thai sensation, after he made history by becoming the first Thai to take a podium in the Moto2™ World Championship. On Wednesday, 18th May 2022, Mr. Phiphat Ratchakitprakarn, Minister of Tourism and Sports, congratulated "Kong" Somkiat Chantra from the Honda Race to the Dream project and appreciated his accomplishments to date after delivering three podiums to Thailand in the 2022 campaign. Furthermore, the Minister of Tourism and Sports states that he is fully ready to support all Thai athletes as best as possible.
var videoContainer; var modeAnalytics = false; var mode="demand"; var nid="411241"; var livetest= true; var lang = "en"; var messageToWatch = ""; var extendedMode = true; var optionSelected = "0";; var youboraActive = true; var analyticsDBIActive = "true"; var optionMeta="hdn"; var dornaAccount = "dorna"; var broadcaster = "0"; var claims_url = ""; var noRegister = ""; var subscribe = ""; var urlMeta = "";
// var externalbalancing = true; //get value from perms
window['flashvars_411241'] = multilive_url : '', broadcaster : broadcaster, optionMeta : optionMeta, baseURL : base_url + "/", secureURL : "https://secure.motogp.com" + "/", to : "", streamType : mode, uid : uid, nid : nid, optionSelected : optionSelected, url_claims : "", href_claims : location.href, referer : location.href, preroll : "", lang : lang, youboraActive : youboraActive, analyticsDBIActive : analyticsDBIActive, dornaAccount : dornaAccount, autoplay : false, alternative : false, skinName : 'motogp' ;
var params = menu: "false", wmode:"opaque", allowfullscreen: "true", bgcolor: "#000", allowscriptaccess: "always" ;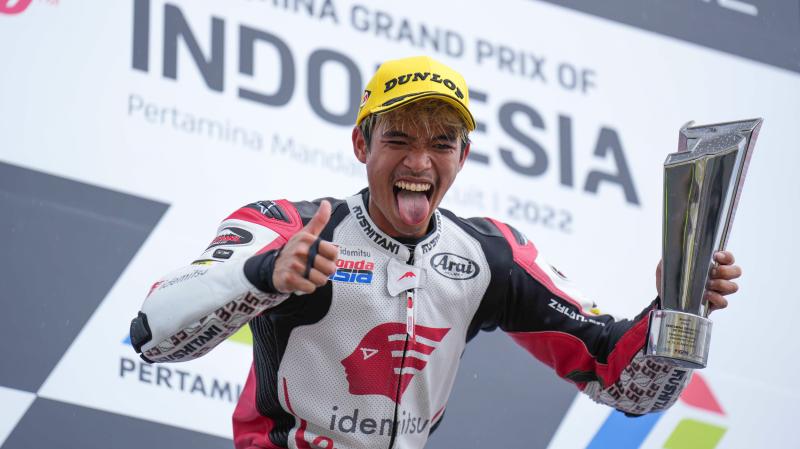 Moto2™ race recap: Chantra springs a surprise in Mandalika 20/03/2022
Additionally, Mr. Tanukiat Junchum, Deputy Governor for Professional Sports and Boxing, Sports Authority of Thailand, Mr. Alaksh Phornprapha, Vice President of Thai Honda Manufacturing Co., Ltd., and Mr. Tanaisiri Chanvitayarom, Managing Director of Chang International Circuit were honoured to welcome Chantra, and also meet with the Minister of Tourism and Sports to continue the development of the Thai motorsport industry.
 
"I am extremely proud to represent Thai people to build a world-class reputation. I highly appreciate the support of Thai Honda and Thai fans. That support had given me extra encouragement that I could bring this success back to Thai fans," Chantra stated. 
 
"My next goal this season is to fully focus and perform as best as possible on the 2022 Moto2 World Championship," he continued.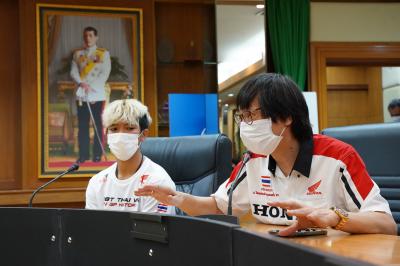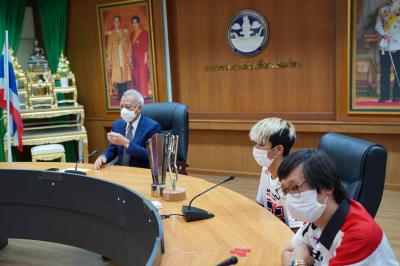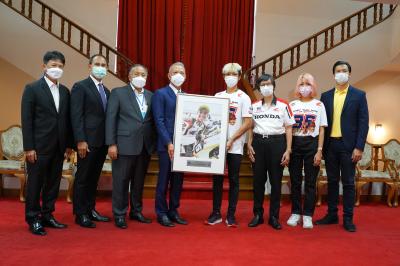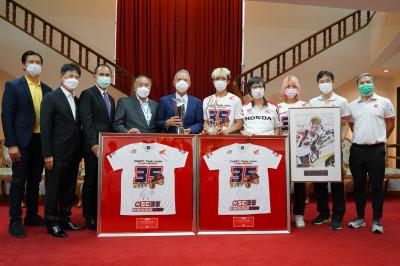 Chantra will be back in action at the Italian Grand Prix in Mugello, which begins on May 27th.