Binder: "I don't think it's ever going to sink in"
South Africa's first premier class win and KTM's first MotoGP™ win – safe to say it was a super Sunday in Brno for Brad Binder
It's safe to say Brad Binder, Red Bull KTM Factory Racing and South African MotoGP™ fans will be pretty stoked for a while. The rookie sensation blew his competitors out the water on Sunday at the Monster Energy Czech Republic Grand Prix to become the first rookie to win a premier class race since Marc Marquez (Repsol Honda Team) in 2013.
Binder's performance in just his third MotoGP™ race was remarkable. Starting from P7, the South African made getting the front and striding to a four second lead look like a piece of cake. It wasn't just a win. It was a comprehensive win and Binder has written a large chunk of history in more than one way. He's South Africa's first MotoGP™ winner and KTM's first MotoGP™ winner, with this seemingly just the beginning for both Binder and the Austrian factory.   
"It hasn't sunk in yet I tell you that," began Binder, speaking to motogp.com after the race in the Czech Republic. "Today was the most incredible day of my life so far. It's that day I've dreamt of as a child and gosh, for it to come true in my third Grand Prix is scary. I can't believe it. Since the day I started in the Red Bull Rookies Cup, it's been a consistent grind to get here. And you know, I came through all the classes with Red Bull KTM and here we are on top and we finally won in MotoGP™."
Binder's Grand Prix journey has seen him go from Moto3™ World Champion in 2016, to Moto2™ runner-up in 2019 to MotoGP™ race winner in 2020 – all with Red Bull KTM. It's a partnership that has shone in all three classes and hearing how comfortable Binder was in Brno's 21-lap race, it feels like more success is charging over the horizon – like a raging bull over an Austrian hilltop, you might say.
"I didn't." Binder's response to being asked when he thought he could win the race. "I sat behind Fabio and I could keep his pace quite easy and as the race went on, I saw I was stronger than him so I made the overtake. Then once I caught Franco, I sat there for a lap and I saw that I had a good advantage in the grip, so I waited and then I tried to attack as soon as I made the overtake.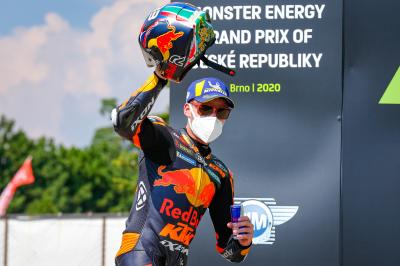 "And you know, I was just waiting because I thought the last three laps, someone was going to come because my pace dropped so hectic, but obviously everyone's did. So I just pushed so hard in the last three laps, I think it was the cleanest three laps I've ever done. Incredible. What a day. My team gave me such an amazing bike, my bike worked so good I can't even explain, it was actually surprising me today. Hats off to my team, they've worked so well this weekend. We didn't start very well but we got the bike to an amazing place and we won our first Grand Prix together."
Binder's disbelief that he'd won a MotoGP™ race was clear to see in his post-race interview. He and KTM have shown plenty of signs that a great result was coming, but a race win… not even Binder and KTM could have expected it to come so early.
"I don't think it's ever going to set in. Honestly I don't. The first time I won in Moto3 I thought 'this is insane'," continued the 24-year-old. "I was quite content with that. If that was the end then that was ok. So if we look where we are now today, it's just unbelievable. All with Red Bull, all with KTM, we won in all three classes, and I hope this is the beginning of something great."
So much credit has to go to KTM with that they've been able to do with the RC-16 from 2016 to now. Four years of relentless work has got them to this point and Binder thanks the factory personnel, which include the likes of Pol Espargaro, Dani Pedrosa and Mika Kallio.
"For sure. It's a huge team effort. The amount of people working in our box is scary. It's insane. It's still something I can't get used to, there's so many guys just grinding it out. They don't leave anything behind, they try every single thing you can imagine and I need to say a huge thank you to every single person in my box, KTM, the bosses, what an unbelievable day."
And next up for the Austrian factory? A doubleheader at their home GP. It's a crying shame the orange army's fans won't be there to give KTM and Binder the heroes welcome they deserve, but they couldn't choose a better venue to be going to after this unbelievable high. And it's a circuit Binder thoroughly enjoys.  
"Yeah, it's insane. Austria is a track I love, I've gone well there in the past. It's the home Grand Prix for Red Bull and KTM so it's going to be awesome. I mean it's going to be tough to follow after this one. I think let's enjoy today and then we worry about that when Friday comes.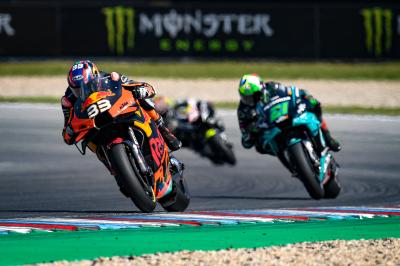 "This morning I was quite shocked that I was fifth in warm up," said Binder, in response to whether he's thinking about challenging for the title. "To think we won today is something that's not going to set in for a while and I just want to take things a day at a time. It's the way I've always approached every race and it's the way I want to keep things."
Every practice session, qualifying battle and race, exclusive interviews, historic races and so much more fantastic content: this is
VideoPass
!