Chad Reed: Supercross legend on the Rossi-Marquez dynamic
This week's guest on Last On The Brakes, the MotoGP™ podcast, is Supercross legend and huge MotoGP™ fan Chad Reed
Taking centre stage on this week's Last On The Brakes, the official MotoGP™ podcast, is Supercross legend and huge MotoGP™ fan Chad Reed. The Aussie, who recently announced his retirement from the sport, sat down with Matt Dunn and Fran Wyld to detail all the different parts to life at the top of the motorsport world.
Nothing was off-topic as the trio touched on what it might be like racing behind closed doors – and on such a condensed schedule – to the intricacies of how relationships change between riders over time as rivalries grow or wane, there's most definitely something for everyone, whether you're coming at us from SX or our very own MotoGP™ faithful.
In particular, one question and answer perked up the ears: how do you balance being mates with two men whose rivalry has started to redefine the word? Those men, of course, being Monster Energy Yamaha MotoGP's Valentino Rossi and Repsol Honda Team's Marc Marquez. Fortunately, having been in the eye of the storm, Reed knew the answer.
"I look at Valentino and Marc, when I was at the Ranch back in 2014," said Reed, remembering a trip to The Doctor's ranch in the summer of 2014. "And it was literally right after Misano, Valentino had just won and Marc had crashed, and Marc was still wearing the leathers with the crash marks on at the Ranch. I miss those days because I saw a little kid, not that he was little. Obviously, he was still a Champion, because you saw a very raw kid looking up to a hero, and it's sad to see how that's fallen apart.
"I don't know that it was individuals, the athletes, I think it's the entourages that make it worse! I lived it with Ricky Carmichael and James Stewart, and I think deep down as a rider, as I always had massive respect for the people involved, it was always the individuals around you that created the drama. But I feel blessed that I got to witness that before what we see today. Because that was really cool, the photos, the memories and the festivities were really fun."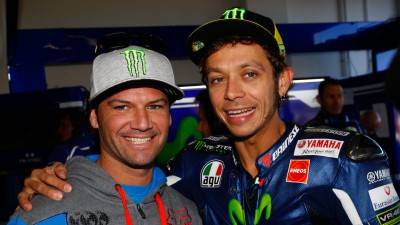 Meanwhile, how does Reed see the relationship between Marquez and potentially the man most likely to ruffle his feathers in years to come, Petronas Yamaha SRT's Fabio Quarataro, developing over the next few years? There are parallels with Quartararo and Marquez's relationship and Rossi and Marquez's, but will the pair go down the same route as the Italian and the Spaniard?
"I don't think Fabio and Valentino are in jeopardy," said Reed. "I think Valentino is within a year or two of stepping away, so I don't think that will drastically change. I follow both on Instagram and you see how Fabio is still this young bubbly kid who doesn't have the pressure of the world on him yet – and so he's able to comment, and I see it on Marc's page, he's friendly with everyone. That will change, I promise.
"It's the way the world works, I've been guilty of it myself. Things come full circle and I think Marc will have a closer reality of why him and Valentino's thing fell apart, sooner or later, if Fabio can really take it to Marc. I see that falls apart and maybe Marc gets a different view of how things played out with him and Valentino. It's all well and good to do it in your rookie season though, let's see what happens and how you back it up in year 2!"
Here are some of the other topics Reed and the Last On The Brakes gang dive into this week:
– Ending his career coupled with his last season being interrupted by the pandemic
– What it's like racing behind closed doors?
– How his love affair with MotoGP™ began and why he didn't end up on tarmac
– His favourite era of motorsport?
– Valentino, Marc and how it fell apart
– Will the younger guys genuinely stay friends as they start racing each other more?
– Jack Miller has the killer instinct
– What will happen in the rider market?
Head over to the links at the top of the article to listen to the podcast on your preferred platform. Or, head over to MotoGP™'s YouTube page to watch the show and any others you might have missed!
Every practice session, qualifying battle and race, exclusive interviews, historic races and so much more fantastic content: this is 
VideoPass
!