COTA enters final stages of resurfacing operation
A track spokesperson believes riders will be appreciative of the changes made to the asphalt in Austin ahead of MotoGP™'s return in April
Ahead of MotoGP™'s return to Circuit of the Americas in April, a spokesperson for the track has offered a positive update on the large-scale resurfacing effort.  The Austin circuit came in for heavy criticism from riders after last season's visit, with bumps on the asphalt proving problematic. As a result of the complaints, Turns 2 through to 10, and 12 through to 16 are being repaved and reinforced in a bid to solve the issue.
The first section of the track features a slaloming run of short and quick corners before leading up into the sweeping left-hander at Turn 10, while the latter part is of tight corners at the end of the back straight. Using cutting edge technology to help complete the initiative, Leo Garcia, VP, Facilities and Track Operations, spoke in-depth to motogp.com regarding the process of the project, and believes that riders will "appreciate the work".
"After speaking with Franco [Uncini, FIM Grand Prix Safety Director], we established the areas that he wanted us to work on, which were the problem areas we kind of knew existed," said Garcia before detailing the changes being made.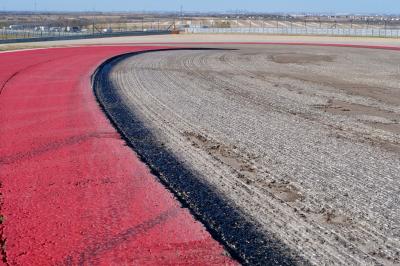 "I got in contact with Texas A&M's Transportation and Paving Institute to bring some equipment. We used ground-penetrating radar to do a little bit of surveying underneath the asphalt to see if there were any anomalies that we needed to address on top of the areas we had already established. They came on site, did the research and determined that there wasn't anything under the soil that showed why the bumps returned. From there we decided to fix the problems by reinforcing the foundation on which the asphalt was built."
"The paving company came in to start work from the middle of Turn 1 through to the braking marker that's 100-150 feet before Turn 11. Then in two areas, Turn 2 and Turn 10 where we felt the movement of the earth was happening, we maybe did ten inches of reinforced concrete and reinforced rebar. And then again at turn 10 another footprint of reinforced concrete and rebar in the areas where we felt the movement of the earth was happening from there we came back and paved over it."
"Turns 9 & 10 were easy to determine because we found the conduit that was running across the track, so we knew that we needed to reinforce there because it was a point of weakness. The reality is not it's really not a bump, it's an indentation in both areas and so we figured the conduit space, that void, was creating that flexing and that's where we felt that the concrete would be best served; to reinforce the road base above the conduit.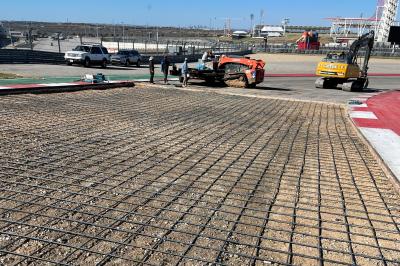 While progress has been encouraging, it hasn't all been plain sailing. Other parts of the track have proved a bigger challenge to address, namely the right-hander at Turn 2.
"It was more difficult because we didn't find a conduit that would have caused any movement. What we decided to do was remove 10 to 12 inches of the road base to solid rock mix. We removed that whole section and we poured it all in concrete and reinforced rebar and then we paved on top of it."
var videoContainer; var modeAnalytics = false; var mode="demand"; var nid="403997"; var livetest= true; var lang = "en"; var messageToWatch = ""; var extendedMode = true; var optionSelected = "0";; var youboraActive = true; var analyticsDBIActive = "true"; var optionMeta="hdn"; var dornaAccount = "dorna"; var broadcaster = "0"; var claims_url = ""; var noRegister = ""; var subscribe = ""; var urlMeta = "";
// var externalbalancing = true; //get value from perms
window['flashvars_403997'] = multilive_url : '', broadcaster : broadcaster, optionMeta : optionMeta, baseURL : base_url + "/", secureURL : "https://secure.motogp.com" + "/", to : "", streamType : mode, uid : uid, nid : nid, optionSelected : optionSelected, url_claims : "", href_claims : location.href, referer : location.href, preroll : "", lang : lang, youboraActive : youboraActive, analyticsDBIActive : analyticsDBIActive, dornaAccount : dornaAccount, autoplay : false, alternative : false, skinName : 'motogp' ;
var params = menu: "false", wmode:"opaque", allowfullscreen: "true", bgcolor: "#000", allowscriptaccess: "always" ;

Construction begins on COTA resurfacing 21/01/2022
Works on COTA are ongoing and Garcia couldn't quite give an exact deadline for when they'll finish up but admitted that a large part of the project has been completed. However, worries remain over certain parts of the track, though he expects riders to be appreciative of the changes made at Turn 12.
"We're done as far as all the paving is concerned, we do have some concerns in a couple of areas, where the transitions are between the concrete rubble strips and the new asphalt. We're going to rely on Franco [Uncini] to give us some input on that. Some of them are minimal, some of them are right at the at the limit of the tolerances, but he'll come on site and in the next couple weeks and we'll go over some of that stuff."
"We also paved from 12 through 16. We did redo Turn 12 because we had done it two years ago, we came back and re-milled it re-leveled it and then dropped it down two inches to match the new paving that was being done. That whole transition, from the breaking into the apex at 12, is 99% better than it was before, the transition is a lot smoother. I think the riders and drivers will appreciate the work."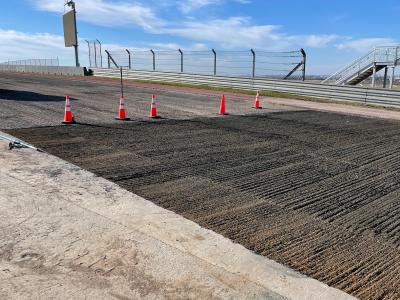 In terms of when we can expect to see the new surface to the test, it appears the FIM Safety Director Uncini will put the relaid tarmac through its paces in the coming weeks. COTA are also on the hunt for some local riders to get some track time and are keen to hear their feedback.
"We're going to use Franco as our test dummy! He has asked to come out and source him a bike. We're also looking at some local Moto2™ drivers that are here in the States. We will fly them out here and let them zip around the track and give us their input as well."
MotoGP™ riders will certainly welcome the news of the ongoing works, and will be eager to be put through their paces at the Austin track when they head for Texas for the fourth round of the 2022 World Championship in April.
Every practice session, qualifying battle and race, exclusive interviews, historic races and so much more fantastic content: this is 
VideoPass!