Darryn Binder: "I'd be stupid not to accept my life's dream"
The South African is ignoring some negativity about his jump from Moto3™ to MotoGP™ and focusing on doing his talking on the track
In 2022, Darryn Binder (WithU Yamaha RNF MotoGP Team) will do something only Jack Miller (Ducati Lenovo Team) has done in recent years – sidestep the intermediate class and go straight from Moto3™ to MotoGP™.
Much has been said about Binder's leapfrog move into the brand-new Yamaha Independent Team setup. Some have been critical; many have welcomed the chance to see what Binder can do in the premier class. There's no doubting that it's a risk for WithU Yamaha RNF, Yamaha and Binder, but sometimes risks are worth taking. And if you're Binder, then a chance to show what you're capable of at the pinnacle is an opportunity not to be sniffed at.
During his time in Moto3™, Binder has shown – on more than one occasion – that he's one of the fastest riders out there. A solitary victory in the lightweight class doesn't necessarily do him justice. But as we know, winning a race in Moto3™ nowadays is trickier than ever. Five further podiums, again, doesn't necessarily portray how strong Binder was in his last two seasons particularly in the class.
More often than not we saw the number 40 getting his elbows out in the lead pack, but something that has always hindered Binder more than many is his size and therefore weight on the smaller machines. Being a taller, heavier rider in the lightweight class is a huge hindrance, hence why he and others are convinced he will be better suited to a bigger bike.
Unfortunately for the 24-year-old though, a number of incidents down the years with other riders on track has caused him to gain a bit of a reputation for being reckless. Most riders have taken another rider out during their career; most have also been taken out. It's an annoyance that unfortunately happens from time to time when the racing and margins are so finely poised. But it did happen a bit too often in Binder's case.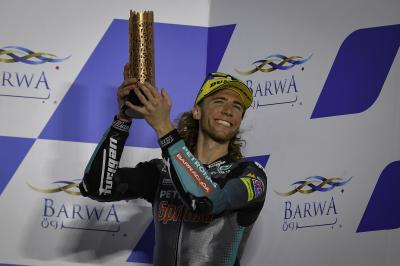 His year with Petronas Sprinta Racing in 2021 was disappointing in one sense – a title challenge after his double Qatar podium never came to fruition – yet positive in another. Binder kept his nose clean while some of his Moto3™ counterparts didn't. His hot-headed reputation was becoming a thing of the past. However, an error on the last lap of the Algarve Grand Prix – the penultimate race of the season – led to him taking out title-chasing Dennis Foggia (Leopard Racing).
It was a bad error, and Binder knew it. It meant Foggia conceded the title to Pedro Acosta (Red Bull KTM Ajo), with Binder's attempt to go apologise being waved away by Foggia and the Leopard garage. Aside from causing Foggia to crash, it also saw people jump back on the bandwagon that Binder had been successfully unshackling himself from with a mature season in 2021. 
Speaking to the media after the WithU Yamaha RNF MotoGP Team's presentation, Binder was asked about some of the negative reaction he's received to his switch, including whether he's felt the need to have a psychologist alongside him.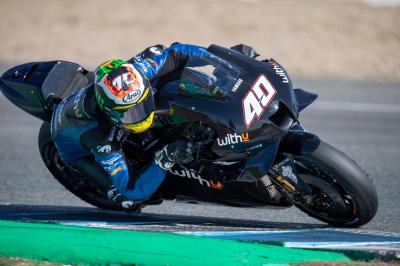 "For me it was a dream come true. Everybody wants to race in MotoGP one day so to get given an opportunity like this, you can't refuse it. It's the greatest opportunity I've had in my life so I grabbed it with both hands," said Binder.
"There was obviously mixed feelings and lots of different comments but I'd be stupid to not accept my life's dream, I've been working towards this my whole life and if someone gives you this opportunity you need to take it and make the most of it. I'm super happy to be going up to MotoGP, obviously like you said people have said otherwise and whatever, I really don't care.
"I don't have a mental coach, I don't need one. I'm a perfectly happy person, I don't entertain b*******. So yeah, I carry on like normal. I approach this season like I approach any season. Obviously I've changed a couple of things regarding my training, I had to step up in a couple of areas but I did a normal off-season. I went home to South Africa, been training a little more in the gym, but just approaching it like I would anything. At the end of the day it's still a motorbike, it's got two wheels and I've got to ride it."  
During the first 2022 pre-season test in Jerez after the 2021 season finale in Valencia, Binder was three seconds off Francesco Bagnaia's (Ducati Lenovo Team) scorching pace. Pecco, in turn, was 0.4s quicker than anyone. So as a first outing, Binder's showing was very promising, especially considering his lack of experience on a big bike.
Binder was again asked about some of the negativity surrounding his move, but not just from a fan's perspective – media and fellow competitors too. Again though, Binder isn't letting any of it affect his mindset as we approach the two pre-season tests in Sepang and Mandalika, before the season-opener in Qatar.
"At the end of the day I'm going to have to go out there and do my job. My job is to go out there, ride and do my best, obviously I want to leave all the bad things behind and move forward on a clean slate. But that's difficult," continued Binder.
"I tried to do that last year and unfortunately at the end of the year I made a mistake and everybody just jumped back on the same bandwagon. I'm just going to go in and do my best and try keep my nose clean and stay out of trouble. I hope I can have some good races and good battles with all the guys and whether they like me or not, it doesn't change anything for me. At the end of the day it's every man for himself out there. So yeah, obviously I talk to anyone who wants to speak to me. I'm not a fussy person, I'm more than welcoming to have a conversation (with). 
"You know, one thing like I said, in the media and that, I think things got blown out of proportion more than what it was like. You would read things and I feel like they'd be worded a little bit differently maybe to what people originally said because there was a lot of people I'd spoken to and it didn't come across the way it came across in the media. I know everyone has different opinions, but it really doesn't bother me. Yeah, I'm just going to go out there and do my job at the end of the day."
Everyone will have their opinions regarding Binder getting a shot at MotoGP™ without first dipping his toe in Moto2™. Rightly, and thankfully, Binder isn't letting whatever negative comments that are floating around get to him. The talking will be done on track. No one can doubt Binder boasts bags of talent and potential, and it's going to be gripping to see how he and his fellow rookies do over the next year against MotoGP™'s elite. 
Every practice session, qualifying battle and race, exclusive interviews, historic races and so much more fantastic content: this is
VideoPass!