"Disaster" to hope: Yamaha optimistic for 2023 fightback
A huge step on the final day of testing launches Quartararo and Yamaha back into the title frame
"It's a disaster" were the bruising words coming from Fabio Quartararo's (Monster Energy Yamaha MotoGP™) mouth at the opening 2023 pre-season test in Sepang. Why? Soft tyre performance was nowhere near where it needed to be.
The good news for Yamaha, the 2021 World Champion and his teammate Franco Morbidelli was that extra horsepower had been extracted from the 2023-spec engine. Top speed has been something the Iwata factory have been craving more of for several seasons now, but it looks like they've finally cracked that code.
However, the laps times didn't reflect that. Quartararo and Morbidelli left Sepang having occupied P17 and P19 on the combined timesheets, with two more days of testing in Portimao to try and figure out why they couldn't get the maximum performance out of a fresh set of soft tyres. This wouldn't just affect the ever-important qualifying sessions, but the MotoGP™ Sprint.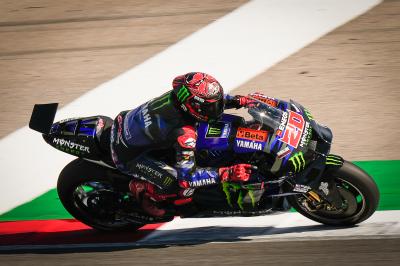 The problem continued on the opening day in Portimao. Quartararo and Morbidelli were struggling to put competitive time attack laps on the board, as worry for Yamaha started to become very real. "I don't feel at one with the bike" was the noise coming from Quartararo heading into the final day, however, the final day of testing brought a sigh of relief to the #20's side of the garage.
Going backwards to go forwards was essentially what happened. Going back to old set-ups allowed Quartararo to find those few extra tenths that he desperately needed heading into Round 1, as the Frenchman ended the Portimao Test in a positive P3.
On the other side of the box, Morbidelli didn't have the same success. "Looking at the standings, our result may seem bad, but in reality the gap is not so big, and the slightest improvement could move us up the order," expressed the 2020 runner-up. P19 isn't where the Italian wants to be, or should be, but the times are tight – he's less than half a second from the top 10. But half a second is a mighty gap to bridge in this day and age of MotoGP™.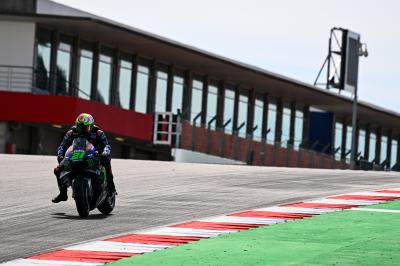 The goals for Yamaha in 2023 are simple: reclaim the MotoGP™ title. How much will not having an Independent Team on the grid affect them? Time will tell. What it does mean is all of Yamaha's efforts will be placed on getting both Quartararo and Morbidelli equipped so they can challenge for podiums and wins every weekend.
With Ducati and Aprilia looking mighty with all of their riders, Yamaha certainly have their work cut out. In Quartararo, they have a rider who was able to squeeze everything out of his machine and more last year – the hopes are he can be less on the limit throughout 2023.