Dovizioso and Lorenzo: the same, but different
Ducati to Yamaha vs Yamaha to Ducati – the Italian discusses what he's still needing to do before fully adapting to a different type of bike
2022 will see MotoGP™'s most experienced rider, Andrea Dovizioso, compete in his 20th Grand Prix campaign – the Italian's 14th in the premier class. But arguably, it's going to be Dovizioso's most challenging yet.
Previously nicknamed 'DesmoDovi', Dovizioso and Ducati were the closest challengers to Repsol Honda Team's Marc Marquez in the title chase during the 2017 and 2018 seasons. Dovizioso finished runner-up for the third time in 2019 when Marc Marquez stormed to an eighth World Championship. However, Dovi and Ducati's eight-season relationship came to an end when 2020 drew to a close. At that point, we didn't know whether we'd seen the last of Dovizioso in MotoGP™.
It turned out that we hadn't. Dovizioso returned to the premier class with Petronas Yamaha SRT for five races in 2021, and now the Italian is gearing up for a full season with the new WithU Yamaha RNF Racing Team – on a factory spec YZR-M1. But despite boasting 103 podiums, including 24 wins spanning across his illustrious career, 2022's challenge is huge.
Why? Because Dovizioso still needs to fully adapt to the Yamaha. Especially given the fact that the Yamaha he'll be riding this season is quite a bit different to the one he raced with in 2021 – albeit, of course, the bikes have the same DNA. Two bikes that don't have the same DNA though are the Yamaha and Ducati. You couldn't get two more opposite MotoGP™ bikes. Inline four vs V4 design, superior corner speed vs superior straight-line speed – the strengths and weaknesses of both bikes oppose each other, although Ducati have done an excellent job in ironing out their corner speed issue. Hence why they looked incredibly strong last season.
Famously, Jorge Lorenzo did the opposite to what Dovizioso is doing – jumping from Yamaha to Ducati. Dovizioso's former teammate found the going tough to begin with, but once the five-time World Champion worked everything out, Lorenzo and Ducati became a formidable pairing. It's something Dovizioso discussed with the media after WithU Yamaha RNF's team presentation – how much you have to adapt and, interestingly, figuring out how much of your arsenal you need to keep as a rider to still have that magic touch on a different bike.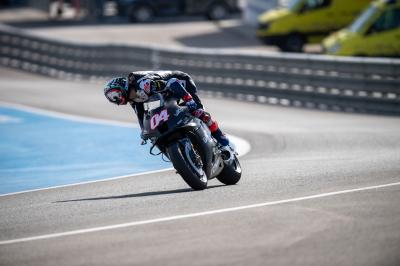 "Ah for sure you have to, this is racing a motorcycle. Especially when you change bike and you go in an opposite way of the two bikes, for sure you have to change," began Dovizioso, talking about doing the same – but different – to what former rival Lorenzo did.
"What Jorge [Lorenzo] did, he started to be competitive when he changed, in my opinion, his mental approach and he rode in a different way than on the Yamaha. He didn't try and ride [it] like a Yamaha. But he took something of his riding style. That's why I told you before that it's very important to adapt because the MotoGP of today – tyres, brakes, electronics, chassis – it's quite clear what you have to do on every bike.
"But every rider has different talents and different experience, and everybody has something special. So you have to keep and try to use your way to ride. You have to understand what percentage of that."
The Sepang and Mandalika Tests will be essential for Dovizioso to work out the said percentage. The experienced Italian also explained why he hit troubles initially in 2020 with the tyre change Michelin brought in, and why the Yamaha – especially under braking – doesn't feel "natural" yet.
"Yes the new casing arrived in 2020 changed the way you have to break especially and with Yamaha it's the same. You have to use the balance of the two tyres in a different way. Still I think I can use that balance in a better way. Still I don't feel comfortable, when I'm braking I don't feel I'm using the potential of the tyres and the bike. In the last two races of last season I was improving because I changed the way I was braking completely compared to Ducati, because the Yamaha requests different things. And also it helped me adapt to the new casing that arrived in 2020.
"In the way you have to ride the Yamaha, at the moment it's not natural for me. But I think it's not easy, but it's possible to adapt and use a bit of your style. I have to adapt more for sure because when you have something big about the bike's DNA you have to follow the characteristics, but you have to keep a few things that are your strengths. So still I'm working on small details to try and mix these two things."
It's going to be fascinating to watch and hear from Dovizioso across the five days of pre-season testing. Let's hope the number 04 can crack the code and be fighting at the front in 2022. 
Every practice session, qualifying battle and race, exclusive interviews, historic races and so much more fantastic content: this is
VideoPass!