Estrella Galicia 0,0 is MotoGP™'s Official Beer Partner
The Spanish beer brand joins forces with the world's biggest motorcycle World Championship as Official Beer in a new, multi-year partnership
Estrella Galicia 0,0 and Dorna Sports are delighted to announce a new partnership, with a multi-year agreement welcoming the iconic beer brand as the Official Beer of MotoGP™ from 2023. As Official Beer, the Estrella Galicia 0,0 name will become omnipresent in MotoGP™, reaching hundreds of millions of fans around the world as the sport embarks on the first blockbuster season of a new era.  
Estrella Galicia 0,0 is a Spanish brand of beer produced by Hijos de Rivera, located in A Coruña, Galicia. Founded in 1906, for more than a century the company has developed some of the world's most recognisable beers, with a presence in more than 60 countries. Estrella Galicia 0,0 already enjoys a considerable presence in motorsport, including some partnerships in the MotoGP™ paddock, making Estrella Galicia 0,0 the perfect choice for the Official Beer of MotoGP™. 
Estrella Galicia 0,0 has already become well known for its contribution to motorcycle racing talent since 2011, and has supported riders from their very first professional racing experience in the European Talent Cup and JuniorGP™ to the premier class of Grand Prix motorcycle racing: MotoGP™. With support for different MotoGP™, Moto2™ and Moto3™ teams and riders stretching back more than a decade, Estrella Galicia 0,0 has been part of 12 World Championships and over one hundred Grand Prix wins thanks to great champions like Marc Marquez, Joan Mir, Alex Marquez and Franco Morbidelli.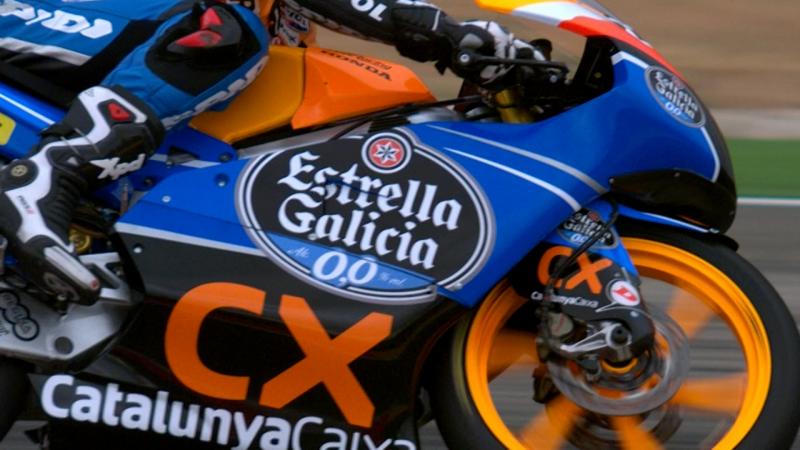 Estrella Galicia 0,0 - proud partner to MotoGP™ 22/03/2023
More than half of the 22 riders on the MotoGP™ grid have been supported by Estrella Galicia 0,0 at some time in their racing careers. Estrella Galicia 0,0 becoming the Official Beer of MotoGP™ is a natural step forward in the relationship between both parties, as they share the same spirit in the pursuit of excellence.    
The iconic Estrella Galicia 0,0 brand will enjoy a worldwide presence thanks to MotoGP™ broadcasts – and fans in the stands – with trackside advertising across much of the calendar in the first year of this new partnership, to be increased to a higher number of venues in subsequent seasons.
On top of all the commercial benefits at different racetracks across the record-breaking 2023 calendar, including a dedicated brand space in the paddock for sharing the culture and DNA of the family-owned independent Spanish brewery, this agreement also puts special focus on developing joint initiatives within the MotoGP™ community, working together towards a more sustainable entertainment model to put positive impact at the top of the agenda.
In addition, Estrella Galicia 0,0 will also be present in the MotoGP VIP Village™, ensuring the brand enjoys a key presence in the corporate hospitality programme of MotoGP™.
The announced agreement also includes a digital package, ensuring the new Official Beer of MotoGP™ reaches every facet of the sport's global audience: the paddock, the grandstands, online platforms, and television broadcast – reaching hundreds of millions of fans. 
Ignacio Rivera, CEO of Corporación Hijos de Rivera (Estrella Galicia 0,0): "Motorcycling racing is one of the projects that has given us the most reasons for celebrations with Estrella Galicia 0,0 in recent years. Encouraging the development of the talent of riders has been and continues to be our raison d'être since we entered the paddock in 2011 and, after a decade of enjoying their success, we are delighted to be able to go one step further and become the official beer of the MotoGP World Championship at a global level, something which is undoubtedly a milestone for our company. We are not only united by our values of excellence and innovation, but also by a non-conformist nature that drives us to set challenges to work together with the whole community, progressively embedding positive impact as part of the MotoGP agenda."
Carmelo Ezpeleta, CEO of Dorna Sports: "We're delighted to welcome Estrella Galicia as the Official Beer of MotoGP. A global brand with a rich history in motorsport makes for a perfect partner for the world's biggest motorcycle racing Championship. We're very much looking forward to seeing the Estrella Galicia 0,0 name at the track and across our broadcasts, as well as welcoming their initiatives in the paddock and MotoGP VIP Village as we build on this strong partnership in the coming years."