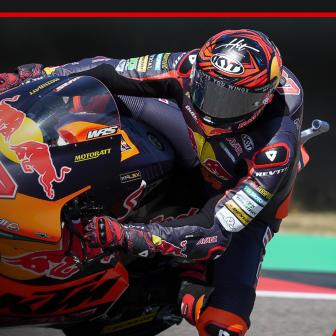 Fernandez flies in opening practice at the Sachsenring
The Spaniard earnt a big gap over the pack during the time attacks in FP1
Augusto Fernandez has made a statement with the fastest lap in FP1 for Round 10 of the Moto2™ season at the Liqui Moly Motorrad Grand Prix Deutschland. Not only was the Red Bull KTM Ajo rider quickest in the opening, 40-minute session of the weekend for the intermediate class at the Sachsenring, his 1:24.222 during the time attack phase of proceedings left him 0.421 seconds clear of the field. The gap was briefly more than seven tenths of a second, before Alonso Lopez clocked a 1:24.643 on his MB Conveyors Speed Up entry with around seven minutes to go. Lopez then became one of several riders to take a tumble during the session, losing the front as he tried to pass Pedro Acosta (Red Bull KTM Ajo) at Turn 13, but had already done enough to earn second position on the timesheet.
Aron Canet (Flexbox HP40) missed out on a first Moto2™ race win by less than half a lap when the field was last in action, at the Catalan Grand Prix, and has kicked off his German GP weekend in promising fashion by taking third in FP1 with a 1:24.709. Filip Salac (Gresini Racing Moto2™) finished fourth-quickest on a 1:24.782 and Albert Arenas, who had a spill as he tried to ride through the gravel at Turn 1, regrouped to clock a 1:24.842 which left him fifth all-told. Fellow GASGAS Aspar Team rider Jake Dixon was an early pace-setter before settling in ninth when the music stopped on a 1:25.099. The top two in the World Championship, Celestino Vietti (Mooney VR46 Racing Team) and Ai Ogura (Idemitsu Honda Team Asia), took 21st and 20th respectively, each at just under 1.8 seconds off the pace.
Vietti was another to have an off-track excursion but he at least stayed upright, which was a better result than was the case for another World Championship front-runner. Tony Arbolino did not set a lap time after he was flicked off his Elf Marc VDS Racing Team entry as he ran through Turn 5 on his out lap, but an early assessment by his team suggests that a rear puncture was a symptom rather than a cause of the incident. The Italians were hardly alone in encountering trouble, and Barry Baltus (RW Racing GP) has been taken to the medical centre for a check-up after a fast crash at Turn 8, but he Belgian was conscious.
With places in Q2 on the line later on in the weekend, there is still plenty to play for when FP2 unfolds later this Friday afternoon? Tune in from 15:10 (GMT +2)!
Moto2™ FP1 Top 10:
1. Augusto Fernandez (Red Bull KTM Ajo) – 1:24.222
2. Alonso Lopez (MB Conveyors Speed Up) + 0.421
3. Aron Canet (Flexbox HP40) + 0.487
4. Filip Salac (Gresini Racing Moto2) + 0.560
5. Albert Arenas (GASGAS Aspar Team) + 0.620
6. Cameron Beaubier (American Racing) + 0.710
7. Sam Lowes (Elf Marc VDS Racing Team) + 0.713
8. Pedro Acosta (Red Bull KTM Ajo) + 0.848
9. Jake Dixon (GASGAS Aspar Team) + 0.877
10. Fermín Aldeguer (MB Conveyors Speed Up) + 0.886