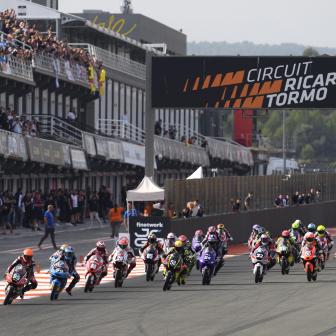 Finetwork JuniorGP™: 2023 applications now open
Applications to compete in the JuniorGP™, Moto2™ and European Talent Cup classes are now open for next season
Prospective competitors can now apply for 2023 entries for the Finetwork FIM JuniorGP™ World Championship, Moto2™ European Championship or European Talent Cup.
-Application period closes on January 31st, 2023.
-Confirmation of the selected riders by email: no later than 15th February, 2023.
-Online registration: no later than March 15th, 2023.
Applications/Entries are accepted by the Organisation on the basis of the double criteria of Team/Rider and the right to entry is limited to the participation of the accepted rider within the accepted Team's structure during a given season. Whether the accepted rider wishes to move to a different team, or the accepted team wishes to substitute the rider, changes are only permitted if previously approved by the Organization. In any such case, additional Entry Fees may apply.
Participants applying for the JuniorGP™ and Moto2™ categories should pay an application fee of 200€ (VAT included). For further information about application conditions for the 2023 season, click here.
About the season entry fees, you can check them here.
In case of vacancies, the Organisation will contact those candidates that have not been included on the first list of selected riders.
For further clarifications, please contact us at applications@fimjuniorgp.com or call us at +34 91 782 02 20.