FP2 analysis: who looks race ready?
With the Friday afternoon session taking place at the same time as Sunday's race, it provides us with clues as to who is looking sharp
The first Free Practice Friday of 2020 in the MotoGP™ class is done and dusted at the Gran Premio Red Bull de España, with reigning World Champion Marc Marquez (Repsol Honda Team) topping the combined times thanks to a 1:37.350 set in the morning's FP1.
However, it's FP2 that we should look at in closer detail. Track temperatures rose to at least 56 degrees in the scorching afternoon Andalusian heat, which is exactly what will be happening when the premier class riders launch themselves off the line for the much-anticipated opening race of their season. So, FP2 really was an indicator as to who might be creeping towards an early favourite for the 25-point haul on Sunday.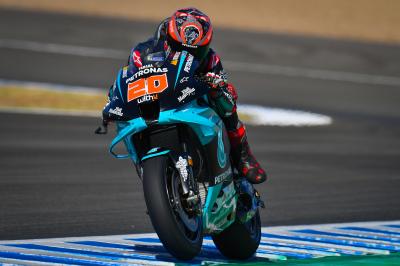 Franco Morbidelli and Petronas Yamaha SRT teammate Fabio Quartararo were the riders to finish P1 and P2 in FP2, with Marc Marquez P3 after a small tumble at Turn 2. Looking at the longer runs the trio did, Quartararo managed to stick in 12 laps in the 1:38s, with Morbidelli and Marquez completing seven each in the same bracket. 10th place finisher Francesco Bagnaia (Pramac Racing) also managed to stick seven 1:38s in during FP2, with the Italian looking threatening in Jerez so far.
Analysing Quartararo and Marc Marquez' laps more closely, the reigning Rookie of the Year's second run featured five consecutive laps of 1:38.661 or faster, his best in that particular run being a 1:38.344. Marquez did two four-lap runs, but wasn't as consistent as the number 20 – his second stint featuring his Turn 2 crash. The number 93's final stint saw him lay down three 1:38s in a row, his best being a 1:38.525 in between a 1:38.970 and 1:38.743.
In addition, Quartararo's tyres that he did on said run were two soft tyres that were seven laps old. Rather scarily, Marc Marquez' tyres on the run we briefly looked at were 20 laps old, a hard front and a soft rear. Taking a look at Maverick Viñales' (Monster Energy Yamaha MotoGP) final effort on tyres that were 18 laps old, the number 12 was in the 1:38s for four laps, his quickest being a 1:38.596. It's looking close, but at a glance, these three are looking like the contenders after Friday's track action.
Only the riders and teams know how much fuel they were running and they were pushing – with Viñales again expressing how confident he feels despite finishing P7 in FP2. Drawing conclusions from FP2 can be interesting, but anything can happen between now and Sunday's race. FP4 will make for particularly intriguing viewing as that gives the riders another 30 minutes to try race set-up in conditions similar to what they'll face in the race. Make sure you keep a keen eye on that at 13:30 local time (GMT+2) before qualifying gets underway at 14:10.
Check the analysis out for yourself here! 
Every practice session, qualifying battle and race, exclusive interviews, historic races and so much more fantastic content: this is
VideoPass
!