Get the perfect setup for COTA with Adriaan_26
The 2020 MotoGP™ eSport Champion is here to talk you through bike set-up in Austin, the scene of the fourth and final Online Challenge
The fourth Online Challenge of the 2022 MotoGP™ eSport Championship is already underway and if you're having trouble setting up your bike around the technically complicated Circuit of the Americas, then look no further.  
The long, undulating MotoGP™ track, which hosts the US GP this weekend, features a variety of corners and styles, making gearing and suspension set-up critical.  
var videoContainer; var modeAnalytics = false; var mode="demand"; var nid="413382"; var livetest= true; var lang = "en"; var messageToWatch = ""; var extendedMode = true; var optionSelected = "0";; var youboraActive = true; var analyticsDBIActive = "true"; var optionMeta="hdn"; var dornaAccount = "dorna"; var broadcaster = "0"; var claims_url = ""; var noRegister = ""; var subscribe = ""; var urlMeta = "";
// var externalbalancing = true; //get value from perms
window['flashvars_413382'] = multilive_url : '', broadcaster : broadcaster, optionMeta : optionMeta, baseURL : base_url + "/", secureURL : "https://secure.motogp.com" + "/", to : "", streamType : mode, uid : uid, nid : nid, optionSelected : optionSelected, url_claims : "", href_claims : location.href, referer : location.href, preroll : "", lang : lang, youboraActive : youboraActive, analyticsDBIActive : analyticsDBIActive, dornaAccount : dornaAccount, autoplay : false, alternative : false, skinName : 'motogp' ;
var params = menu: "false", wmode:"opaque", allowfullscreen: "true", bgcolor: "#000", allowscriptaccess: "always" ;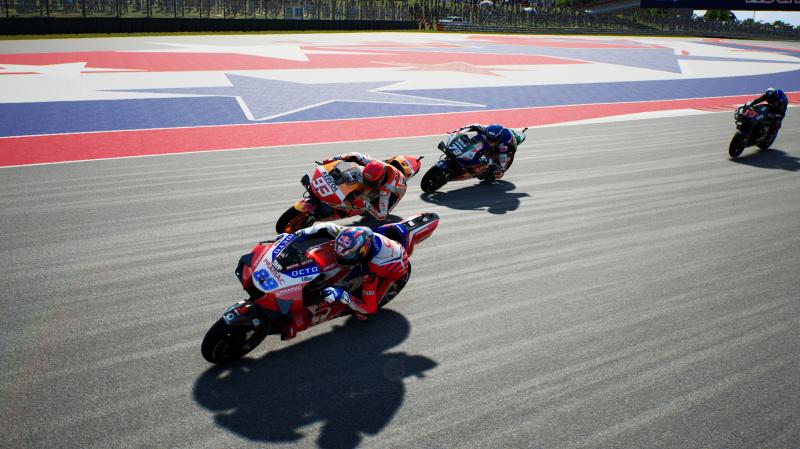 eSport: Finding setup perfection at COTA 06/04/2022
Finding that balance is crucial to set a lap time that will see you make your mark on the Pro Draft leaderboard.
And if you're struggling to set a competitive time, listen to the advice of 2020 MotoGP™ eSport Champion Adriaan_26 as he talks you through the ideal set-up for this track using Marc Marquez's Repsol Honda RC213V. The Spaniard is well placed to hand out advice, after he won races in last year's Global Series using this machine.
So who better to listen to when it comes to suspension set-up, ride height and the ideal gearing for the Circuit of the Americas?