Global Series Round 3: how to be fast at Misano
The Misano World Circuit Marco Simoncelli will host the second race of Round 3 in this year's MotoGP™ eSport Global Series
After a month-long break, the 2021 MotoGP™ Championship is up and running once again as the third round of the Global Series taking place on Friday 24th September at 16:00 (GMT +2).
Eleven finalists have earned the right to compete in the all-important Global Series, a four-round, eight-race championship that determines who walks away with the 2021 MotoGP™ eSport crown.
And this year's Global Series is the most open ever! A total of four finalists are separated by just nine points after the last pair of races threw up a host of surprise results. Not just did established names Adriaan_26, Trast73 and AndrewZh suffer a touch of misfortune; new name Piero Ricciuti55_ proved himself a genuine contender, and has a shot at deposing all three former champions.
The first Grand Prix event to take place at Misano was in 1980 and the venue has become a permanent fixture on the MotoGP calendar since 2007, after it was completely revised and remodelled. The San Marino Grand Prix was first held at Imola in 1981, has also taken place at Mugello and is now hosted by Misano as the Gran Premio di San Marino e della Riviera di Rimini.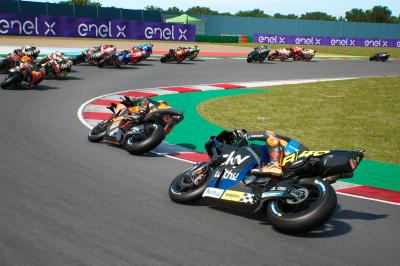 The local area has produced some great riders. The late Marco Simoncelli was from the nearby town of Cattolica, and Valentino Rossi, Andrea Dovizioso and Marco Melandri all grew up in the region as well.
Close to the city of Rimini, the Misano Adriático circuit was constructed in 1972 and has since undergone an array of modifications. A regular scene for Italian Grands Prix throughout the 80s and early 90s, Misano returned to the MotoGP calendar in 2007. With updated facilities, track and grandstands, the Misano Adriatico holds a maximum capacity of 60,000 spectators. In accordance with MotoGP safety regulations, the 4.2km track runs clockwise for the World Championship races.
The track itself used to run anti-clockwise. But updates ahead of the track's return to the calendar in 2007 saw it change direction. Tight and twisty, this will test your ability to master your braking and hold tight lines. Precision at this one is absolutely key.
It all starts with a short run to turn one before which you click sixth gear. Go back to second for the first right, before downshifting another gear into turn two. Then it's through the gears to fourth as you accelerate through turn three. Then it's back to first for the tight turn four right.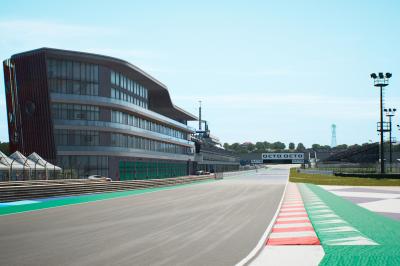 Click second then third as you go through turns five and six – a tight right-left flick – before accelerating down to turn eight, necessitating five downshifts, from sixth to first. Take care through turns nine and 10, when braking with angle, to not tuck the front. Hit the apex and then accelerate onto the back straight, upshifting from first to sixth.
Take turn eleven close to flat, just feathering the throttle, and then drop down to fourth for turn twelve and then down to second for 13, first for 14. Then it's back on the gas, accelerating hard. Take turn 15 in fourth before braking early for 16, back to third gear, and ride to the line.
Who will stake their claim for this year's MotoGP™ eSport crown?  Be sure to watch on Friday 24th September at 16:00 (GMT+2) to find out! 
Every practice session, qualifying battle and race, exclusive interviews, historic races and so much more fantastic content: this is
VideoPass!