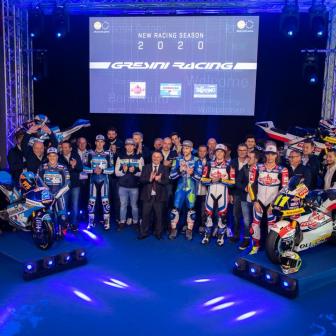 Gresini Racing launch 2020 campaign
The Italian outfit have six riders gunning for glory across Moto2™, Moto3™ and MotoE™
The World Championship project of Gresini Racing is an ever-growing process and this year is no exception: along with the continuation of reigning FIM Enel MotoE™ World Cup Champion Matteo Ferrari and Moto3™ ace Gabriel Rodrigo, four more new faces are joining the #GresiniFamily.
Alongside the aforementioned Ferrari and Rodrigo, there will be Alessandro Zaccone for Team Trentino Gresini MotoE and Jeremy Alcoba for the Kömmerling Gresini Moto3 outfit: two raw diamonds that Fausto Gresini selected from the CIV and FIM CEV Repsol series – and strongly wanted on board. The 21-year-old Italian, Zaccone, will make his World Championship debut this year, however, for the Catalan, Alcoba, this is true only partly true after he earned his full-time spot after last year performing well as a substitute rider for Rodrigo in Austria and Great Britain.
The most ambitious project comes in the middleweight category, where everything has changed: first of all, the team will be back to a two-rider line-up with Edgar Pons and Nicolò Bulega forming a duo of young but great potential riders. Pons already has two World Championship seasons under his belt – and makes his return to the class as reigning FIM CEV Repsol European Moto2 Champion. Bulega has already shown last year he is ready for this category and will look to compete at the sharp end again. The team will have Federal Oil as the main sponsor – continuing one of the longest-running partnerships in the World Championship.
Fausto Gresini, Team Manager: "The Gresini Family keeps growing and this year we will have six riders across three classes by adding one rider in Moto2, which is something crucial to be competitive. We're reigning champions in MotoE and we know it won't be easy to repeat the same achievement, but there's no better way to try it than by confirming Matteo to begin with. Alongside him, there will be Zaccone, a young rider who followed in Matteo's footsteps first in the CEV and now here: this is an innovative category in which I believe young riders are key.
"Regarding Moto3, we come from a year of great disappointment, but we know we have a very competitive team. We strongly wanted Rodrigo as our first-choice rider, and I must admit I saw him in great form in this preseason. Sharing the box with him will be Alcoba, who will need to adapt to the Honda after racing with a different bike – but he's already on the task. I'm fully convinced we can do very well in this category and race at the front.
"Finally, Moto2 is the category in which we invested the most and finally we'll have an Italian rider to defend our colours. With Bulega and Pons, I believe we have a strong and competitive line-up. I would like to end by thanking all of our sponsors – who believe in us. We would like to repay them with a high-level season."
Fancy keeping up with all the 2020 preseason testing action and the 2020 season proper? Look no further than 
VideoPass
!