Gresini Racing unveil Moto2™ and MotoE™ teams for 2022
A new colour and new riders have kickstarted the Italian team's plans for the upcoming season
A new livery, a new identifying colour for the Gresini Family and two new riders in Moto2™: Alessandro Zaccone and Filip Salac. The former is coming off the back of an excellent season in MotoE™, having led the World Cup standing up until the final round. The Italian has experience at Moto2™, having competed in the FIM CEV Repsol World Championship in the intermediate class.
Salac moves up from Moto3™, where the Czech rider showed plenty of promise and took a podium at the French GP last year. Bigger than most, the move up a class and to larger machinery should suit the number 12. Both riders will be on track with their new team in February for the Jerez Test, giving them the chance to familiarize themselves with their Kalex bikes.
Filip Salac: "Everything will be new for me after a difficult year in Moto3, I was too tall for that bike. This winter I trained with a bike more similar to Moto2 and I can say that I feel much more comfortable. It will be a new adventure for me and I will have to gain a lot of experience, I will do everything possible to learn quickly and I will always give my best. I really miss the action on track, but I will have to hold on a little longer for the February tests, I can't wait to work with the team again, I had a lot of fun with them in the first test! While waiting, I'm concentrating on training at the gym, I need to strengthen my muscles and adapt them to the Moto2 which has a different structure. But to be honest, I like this kind of training even more!"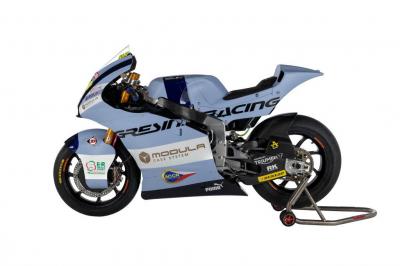 Alessandro Zaccone: "It will be my first year in the Moto2 World Championship so the most important thing will be to try to learn the new tracks as quickly as possible: the first four ones are going to be a little bit tough for me, but I can't wait to try! The winter break has always been a long suffering, but this year it really seemed never ending, perhaps because it was difficult to find a Moto2. It's like a dream that is about to come true, we just have to wait for the tests. In the meantime, I'm training at the gym as well as doing some motocross and Supermoto riding, trying to get back to full fitness after last year's injury. We are almost there, so I am confident!"
In the electric class, there are equally exciting times laying ahead for the Italian team. Seven circuits, fourteen races, and two riders ready to fight for the title: Matteo Ferrari, who has been part of the team since the very beginning and Alessio Finello, a new recruit for Gresini Racing.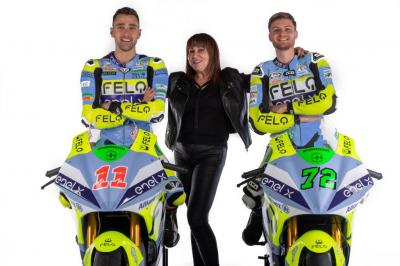 In the past three years, Ferrari has experienced plenty of success by winning the MotoE™ title on his first try and finishing the following two years in second and third, respectively. On the other hand, rookie Finello comes from the Italian championship (CIV) with the MotoE™ World Cup a new experience for him.
Matteo Ferrari: "The new bike is crazy good: honestly with I like this yellow-blue colour combination even more than the already wonderful MotoGP one. This year I want to be at the top again, so we decided to change my way of training and diet: I'll be ready in time for the tests. While waiting, we are evaluating with the team any possible change that can be made on the bike: we want to arrive at the tests with clear ideas about the work we must do."
"I miss riding my bike too much, the last race was in September. This year there will be 14 races so the championship will be more competitive, there will be more chances to reach the top. Last year after 7 races I got really close and eventually third in the championship. But this year won't be enough, the goal is to win it. I want to start on the right foot and to do that we should work very well in Jerez, showing that we are ready. This was our Achilles heel last year."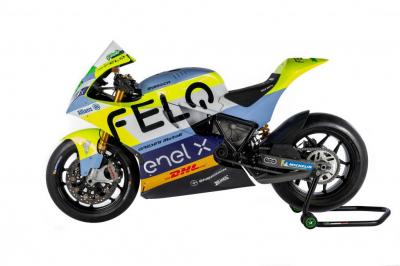 Alessio Finello: "The expectations are high: I am someone who always aims at the top and I want to do it also on this occasion. I know I have to take it slow, it's my first year and I'll have to learn as much as possible. The most important thing is to always improve, always give our 100%, to start in one way and finish in a better one. The bike is amazing: these new colours, especially the blue is incredible. The matte-gloss combination is truly amazing, it will be one of a kind on the track. I liked it so much that I decided to get inspired by it also for the graphics of my helmet: as I have three helmets for the season, I decided to make one all shiny, one fully opaque and one shiny and opaque like the bike."
"I miss riding my bike a lot, I haven't been on track since October, but I trained with the dirt bike and at the gym, where I had to completely change my training method, considering the MotoE weight; I have already gained 2/3 kg of muscles as this bike requires a lot of strength to be ridden at its best. I hope I can really get back on track as soon as possible because I really feel that something is missing in my life right now, and that is the feeling that only racing can give you. I can't wait to start over!"
Every practice session, qualifying battle and race, exclusive interviews, historic races and so much more fantastic content: this is 
VideoPass!