Herrera set for Aragon wildcard in historic all-female team
The current MotoE™ rider will make Grand Prix history later this year when she forms part of all-female squad run by the Angeluss MTA squad
History will be made later this year at the Grand Prix of Aragon when MotoE™ star Maria Herrera lines up on the grid as part of an all-female team. It will be the first time a team comprising of only women will be participating in a Grand Prix, thanks to the collaboration between Herrera, Angeluss and the MTA Moto3™ squad.
The ambitious project launched by Angeluss and its creator, Aurora Angelucci, which aims to promote the presence of women in motorcycling and contribute to reducing the sector's gender gap, now officially takes off with a very important first initiative on track.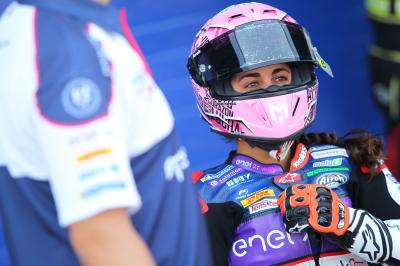 Angeluss has come to an agreement with talented Spanish rider Herrera for the Aragon round of the Moto3™ World Championship, set to take place on 18 September. A partnership that Angeluss has established with Moto3™ team Angeluss MTA this season means that the 25-year-old will be riding a KTM during her wildcard appearance. Thanks to Angeluss, and for the first time in world championship history, Herrera will be supported in the garage and on pit lane by an all-female team.
Herrera, who currently competes in the MotoE™ World Cup with Aspar, already boasts significant experience in the Moto3™ World Championship, having completed three full seasons and finished inside the points zone on eight occasions. Herrera already knows the KTM, a bike with which she has competed in the past. Together with the Angeluss team, which comprises professional figures with a range of international experience, Herrera will carry out a test at Aragon in the weeks leading up to the Grand Prix.
Maria Herrera: "I'm very happy to be a part of this project and to have the opportunity to compete as a wildcard in Moto3 this year with a fully female team. I think the main goal of the Angeluss team is to help future riders and I can help pave the way, just as I've been doing for several years already. I was quick to accept this opportunity, as giving visibility to a 100% female team is an initiative that immediately caught my attention. It will be an amazing experience, during which I will also be able to relive my former Moto3 days."