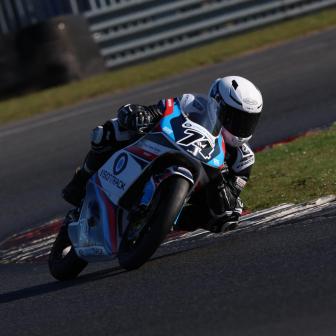 Honda British Talent Cup heads for Silverstone
The first round of 2022 is just around the corner, with the classic British venue playing host
Pre-season is over and it's time for the Honda British Talent Cup to get suited and booted for racing! Silverstone hosts Round 1 as the class of 2022 saddle up alongside the British Superbike Championship, with both enjoying their season openers this weekend.
The familiar trio of Carter Brown, Johnny Garness and Evan Belford (City Lifting by RS Racing), the first two of whom are now with the MLav VisionTrack Academy team, were quick in testing and arrive with a point to prove after missing out on the crown last year, with all primed for another assault on the top.
Brown was runner up in 2021 by just six points, with his momentum growing throughout 2021, whereas Belford's went the opposite way after a strong start and then a tougher latter half of the season. Garness, meanwhile, was just lacking some better consistency – so they'll all want to start with some big points hauls. Last year at Silverstone National, Brown won Race 2 but it was a fairly dramatic Race 1, with Ollie Walker (SP125) coming out on top. Will it be another scene stealer this weekend?
The likes of Bailey Stuart-Campbell (151s Racing), Harrison Crosby (Banks Racing) and Ryan Hitchcock (City Lifting by RS Racing) have also shown frontrunning form already and will want a step forward in 2022, and there are plenty of riders who've now gained enough experience to expect to join that fight for the top ten, top six or more.
There are also a good few rookies looking to prove their pace in the field, and it's a deep field. There are 35 riders on the Entry List this season, with all allowed to take part in Free Practice and Qualifying sessions, but the Motorcycle Circuit Racing Control Board (MCRCB) has imposed a limit of 32 riders who can take part in each BTC race. That means it'll be crucial to put together a good weekend overall.
There are two 22-lap races for the Honda British Talent Cup this weekend, with Race 1 getting underway on Saturday at 14:05 (GMT +1) before Race 2 on Sunday at 14:20 – so make sure to tune in!