Honda record no points for first time in 40 years
The 2022 German GP proved a forgettable day for the Japanese marque as three of their four riders failed to see the chequered flag
It's trying times over at Honda, with the Liqui Moly Motorrad Grand Prix Deutschland seeing them record an unwanted first in the MotoGP™ era. With three of their riders retiring and their fourth finishing in P16, it means the Japanese marque have failed to register a single Championship point from a Grand Prix weekend since the sport switched over to four-stroke engines.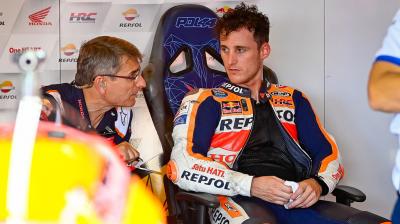 In fact, we have to go all the way back to the 1982 French Grand Prix for the last time they recorded such a feat, and it's a damning indictment of the situation Honda find themselves in currently. There was lots of early season optimism after Repsol Honda Pol Espargaro's podium in Qatar, but that has quickly faded as the rounds have ticked by.
Their talismanic eight-time World Champion Marc Marquez fought a brave battle against injury in the opening part of the year, recording a handful of top six finishes, but he eventually opted to undergo surgery in a bid to regain full fitness and is set for an extended spell on the sidelines. From their current selection of riders, the results just haven't been coming.
Espargaro's Lusail P3 remains the only time an RC213V has finished among the rostrum in 2022, while top 10 placements have been few and far between for the number 44 and LCR satellite counterparts Takaaki Nakagami and Alex Marquez. Japanese rider Nakagami has three to his name (coming consecutively in Jerez, Le Mans and Mugello), while Marquez has two (coming in Portimao and Barcelona). Since that opening night podium, a Portuguese GP P9 is Espargaro's best result.
Bad luck certainly played a big role in their Sachsenring setback, with Espargaro and Marquez forced to retire for different reasons, while Nakagami was unfortunate to crash after displaying some good pace through Free Practice and qualifying.
So what did the riders have to say after their German GP disappointment?
Well, Espargaro has vowed "to work 24 hours a day to improve my situation." The Spaniard retired from the race due to a rib injury, and despite getting an injection pre-race to help numb the pain, he feels the heat didn't help matters and was unable to continue.
For Marquez, a technical issue with the rear ride height device forced him into the pits earlier than expected: "It just stayed down and was impossible to get the normal position of the bike. From the first corner of Lap 1 it was like this, so it was impossible to fight. I was trying to fix it manually but it was impossible and I had to retire. It's a shame because we had a good pace all weekend, but technical issues are something that can happen in the races and unfortunately it happened this time to us and we need to fix it for the future.
Taka Nakagami: "I had zero grip on the left side. I mean the rear grip was terrible and then I couldn't stop and I've no turning and feeling of the bike was terrible. Then lap 7 I lost the front at turn 8 and also that crash was so strange because I didn't any mistake and riding was good. I mean because from the first lap, I'm feeling that I couldn't go fast. So just, you know, at least I need to stay on the bike and OK, I don't care about the lap time, but to think about for the end of the race.
"But at turn 8, I just hit the apex and touched the throttle and I lost the front. It's something so strange, that crash. And also the data is so difficult to understand what's happening.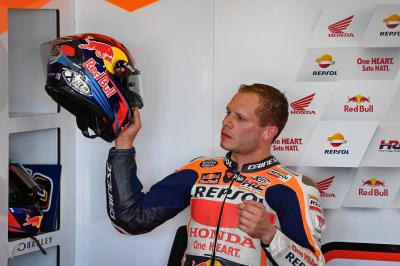 For the home hero and stand-in factory rider Stefan Bradl, he labelled it a "terrible" weekend for Honda before adding "the only nice thing was hearing the national anthem on the starting grid".
"I was suffering with the heat. It was unbelievable. I was burning my hand, my fingers on the brake lever, I couldn't control the bike. After a couple of laps when I had already lost contact with those in front of me, I suffered with a lot of heat in the right boot and I was burning the bottom of my leg.
Despite all the struggles, Honda's sole finisher at the German Grand Prix is targeting the Assen TT has an opportunity to rectify matters.
"We have the next race in Assen next week, so we'll try to make it better. Think positive and we'll get there.