I jumped on the Vale rollercoaster and held on tight
As Valentino Rossi's racing career comes to a close, former MotoGP™ commentator Nick Harris remembers an unforgettable journey
I just jumped on the rollercoaster and hung on tight for the next 17 remarkable years and had absolutely no idea what lay ahead but the timing was perfect. I arrived back full time in the MotoGP™ paddock following six years of Formula One adventures in 2000. The same time and place that the 125cc and 250cc World Champion Valentino Rossi (Petronas Yamaha SRT) made his premier class debut at Welkom in South Africa.
Eighty-nine Grand Prix wins and seven World titles later, Vale says goodbye this weekend after taking all of us on a journey that none of us will ever forget.
I had worked with and commentated on some truly great World Champions over the previous 20 years. I had arrived from a Formula One World Championship, after witnessing the sheer power and wave of publicity that great drivers such as Ayrton Senna and Michael Schumacher had generated throughout the world, but nothing had prepared me for the Valentino Rossi effect. I do not think anybody ever doubted his ability, apart from perhaps Casey Stoner at turn one at Jerez in 2010, but the rest of it was truly amazing.
MotoGP™ had experienced a tough time in the late nineties. Mick Doohan and Honda dominated. In Britain World Superbikes led by Carl Fogarty stole all the headlines and so just what happened?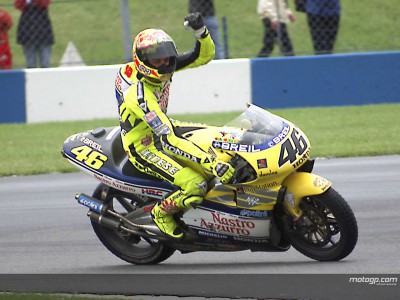 Suddenly everybody knew who the Doctor, number 46 and Vale was. A young man who came from the Adriatic coast of Italy and raced motorcycles for a living had become a World star, a celebrity. A charismatic, cheeky, fun-loving World Champion who became a true legend; I just jumped aboard and loved every minute of it. In Britain just 18,500 fans watched Vale win his first-ever 500cc Grand Prix at Donington Park in 2000. A year later the crowd had doubled, three years later trebled and four years later quadrupled.
I commentated on every one of those eighty-nine wins and hosted the press conference afterwards. I tell a small lie. I was in the commentary box but had lost my voice for one of the greatest battles of them all in 2008. The epic encounter between Vale and Casey Stoner and all I could do was croak my approval. A victory only surpassed by the win at Welkom in 2004 on his first ride for Yamaha.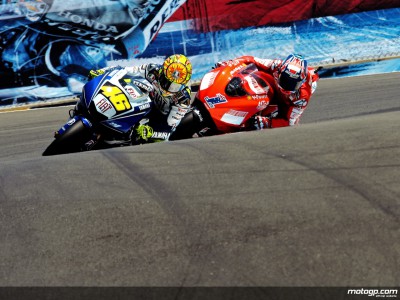 Vale was the only person I knew in international sport that could regularly use the f… word in press conferences and nobody told him to stop. There were plenty of those conferences to remember. I loved it when he won a Grand Prix because, after a long weekend, all I had to ask was how the race had gone and then just sit back as he explained every aspect and every lap. Of course, some did not go quite as smoothly. Most riders found attending the pre-event Press Conferences of Thursday afternoons a bit of a bore. Vale was no exception but sometimes more than livened up the proceedings. Two at Sepang in Malaysia when he just dived headlong into the reputations of Sete Gibernau, and Marc Marquez I will never forget. It was rarely boring.
Hosting a Yamaha function at Phillip Island in 2017 I was feeling a bit sorry for myself with just three Grand Prix remaining before I retired. Unbeknown to me, Vale had just recorded a wonderful message for my retirement video. He came up to me put his arm around my shoulder and declared. 'Oh f… what am I going to do without you Nick because now I will be the oldest person in the MotoGP™ paddock!.' After Valencia, this week I am sure it is a title he will not mind losing.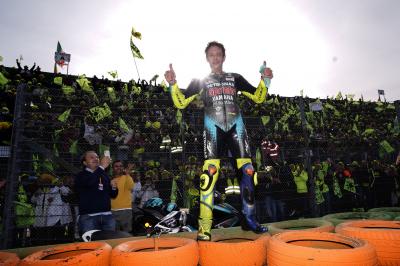 No sport better than MotoGP™ understands the need for change and progress. On the track, the sport is in such a good place with that new breed of young riders and World Champions ensuring the future is bright. Of course, it will continue to flourish without Valentino Rossi but to be honest I do not think it will ever be quite the same without the Doctor.
Little did I realise when I arrived at Welkom back in 2000 on that March morning what lay ahead. It is two decades of my working life I will never ever forget.
Every practice session, qualifying battle and race, exclusive interviews, historic races and so much more fantastic content: this is 
VideoPass!