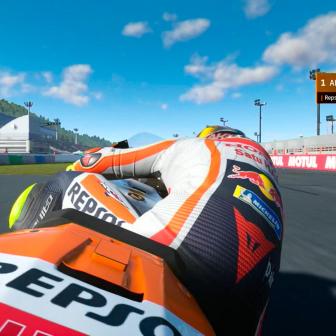 Indonesia dominates! AKI2X wins out in second WINDTRE Rising
The final of the Asia and Oceania selection of the WINDTRE Rising Stars Series more than lived up to its billing!
Indonesia had reason to celebrate on Wednesday as gamers from the South East Asian country occupied all of the first eight places in the second of three regional finals for the WINDTRE Rising Stars Series with Repsol Honda's AKI2X taking the crown!
A new initiative for 2020, the WINDTRE Rising Stars Series is a new talent-spotting programme which required young hopefuls from around the world to tackle four Online Challenges in which Gamers are divided into three categories, depending on their location. These three are the Americas (North and South), Europe and Africa, and finally Asia and Oceania.
Eleven of the fastest young gamers from Asia and Oceania fought each other in a dramatic ten-lap thriller at Japan's Motegi Circuit, a track that demands total precision. Each represented a current MotoGP team.
There was drama before the start as Anditekaka63, the pre-race favourite who scored a maximum 100 points from 100 in the Online Challenges and was representing Petronas SRT Yamaha, couldn't make the final at the last-minute. It meant only ten challengers started the race, rather than eleven.
The first lap here was like no other. A incredible total of seven riders crashed on the first circulation, leaving AKI2X and fellow Indonesians Tamam (LCR Honda) and E wahyu P (Ecstar Suzuki) clear of the rest.
It soon became a vintage showdown between the two Honda entries. By lap six they touched as Tamam attempted a pass for the lead. But his challenge ended on lap six when braking for turn three. That left AKI2X home and dry for a conclusive win.
E wahyu P just held on for second after being chased down by early crasher WanWan. At times Red Bull KTM's rider was the quickest on track but was left to rue his crash at the first turn. Ducati Team's GermanosRyan recovered to foruth, 11 seconds back of the winner, while Tamam eventually came home a frustrating fifth. SpeedXLimit (Avintia Ducati) rounded out the top six.
The stakes in the Regional Finals couldn't be higher, with the winner in each category (Americas, Europe and Africa) receiving a guaranteed place in the MotoGP™ eSport Draft Selection in 2021. AKI2X will now have plenty of time to further enhance his skills to take on the very best in the MotoGP™ eSport world next year.
The next regional final is on Wednesday 21st October at 18.00 (GMT+2), where the eleven fastest young hopefuls from Europe and Africa will race to win their final.