Jakub Kornfeil to replace Smith in MotoE™
The Czech rider will ride the WithU Motorsport Energica Ego Corsa for the 2020 FIM Enel MotoE™ World Cup
Former Moto3™ rider Jakub Kornfeil will replace Bradley Smith in the WithU Motorsport ranks for the 2020 FIM Enel MotoE™ World Cup after Smith was confirmed by Aprilia as Andrea Iannone's replacement for the opening two rounds of the MotoGP™ World Championship.
Kornfeil joins the MotoE™ World Cup after a decade of experience in the Motorcycle World Championship- Since his 125cc debut in 2009, he has contested a total of 182 Grands Prix and has earned 5 podiums and one pole position in Moto3. Last season he was on the rostrum on one occasion and placed fourteenth overall. Kornfeil will be reunited with Johan Stigefelt and Razlan Razali, after two seasons alongside them in the SIC Racing Team.
The five-time Grand Prix podium finisher announced his retirement at the end of the 2019 season, but Kornfeil  – alongside the rest of the MotoE™ grid – will now make his MotoE™ debut in southern Spain, with two races across one week: one on Sunday at the Spanish GP, the other a week later at the Andalucia GP.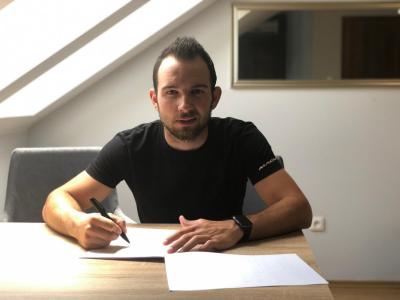 MATTEO BALLARIN – Team Principal: "This is definitely a very strange year for everyone in many ways: WithU Motorsport will start the season with a new rider. We welcome Jakub [Kornfeil], a rider with a lot of experience in the Moto3 World Championship and in whom we trust to take great results in MotoE. We have great support from our partners in the Czech Republic and I hope that together we can have a great year. Jakub will go into the first race at Jerez with very few laps under his belt with a MotoE bike, but it is a very young competition where not many riders have raced yet.
"We are confident about having a great season; Last year we saw how those who looked strongest at the beginning of the year were not the champions at the end, so that could happen in 2020 too. We face a very busy schedule, with consecutive races on the same circuit -7 races at 3 tracks- and end the season at Le Mans instead of Valencia. We also have crews reduced to just two people. We will do our best to succeed.
"Regarding Bradley Smith, I am sad on the one hand, because I would have liked for him to have been fighting for great results in MotoE again. But on the other hand I am very happy for him. He has a great opportunity in MotoGP and I hope he will achieve great results -and that we celebrate it together."
JAKUB KORNFEIL – WithU Motorsport rider: "I have no words to describe what I feel at this moment. I want to thank the WithU Motorsport team for the opportunity they are giving me; to be honest I didn't expect it at this moment in the year. I have worked with some of the team members in the past and I'm really excited to meet up with them again and be part of such a big family, with great riders in all classes. I'm ready for this new challenge and I will give my all.
"My first contact with the MotoE bike will be at Jerez during the Spanish GP week, so I will have to adapt quickly to a completely new bike and competition. From this moment on, I will train with big bikes to get used to the similar size. My target for 2020 is to to take steps forward day-by-day and ride faster every time I go out on track. I'm going to work hard to achieve all expectations and enjoy this great opportunity."
Click here to see the full calendar and schedules for the opening two rounds of the season!
Every practice session, qualifying battle and race, exclusive interviews, historic races and so much more fantastic content: this is
VideoPass
!