KTM: concessions gone, title charge on
A second win of 2020 sees the Austrian manufacturer close in on Yamaha and Ducati in the Constructor Championship
After Miguel Oliveira's (Red Bull KTM Tech 3) quite sensational historic victory at the BMW M Grand Prix of Styria, KTM have officially lost their concessions – and they won't care one bit.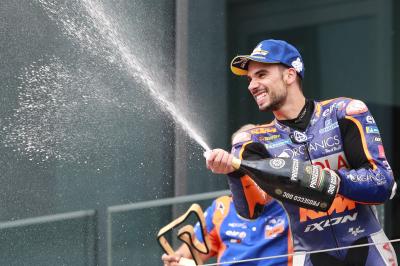 It's been blood, sweat and tears for the Austrian factory over the last five years as they took on the ambitious challenge of joining MotoGP™'s elite. Now, after back-to-back home GPs in 2020, KTM have joined and beaten the fastest factories on the planet. Brad Binder's (Red Bull KTM Factory Racing) Czechia win was something no one would have predicted at the start of the season. Not even KTM could have dreamt the South African would have won his fourth MotoGP™ race.
14 days on and KTM are celebrating another victory. This time, Oliveira stood on the top step of a premier class podium for the first time, handing Tech 3 and Portugal a long-awaited win in MotoGP™. Pol Espargaro's (Red Bull KTM Factory Racing) third place was also just-reward for his tireless work over the past few years – a win is just around the corner for the Spaniard, who lost out at the final corner, on the final lap in Styria. We've read that script before…
So, KTM have now lost their concessions. Oliveira's victory sees them surpass the six concession points needed over a two-year span to lose the rights to some extra privileges. But what does that mean for them?
KTM will immediately lose the right to unlimited testing days. The four MotoGP™ riders won't be able to test whenever they want, only on Official Test days, with test rider Dani Pedrosa unable to test at any GP circuit next season. In addition, the Austrian factory have to now choose three venues for the test riders to test on – this will come into play next year.
KTM's engine allocation will be cut from nine to seven in 2021, and the exemption from the engine approval regulations is cancelled for the following season. KTM will also only be allowed to have three wildcards in 2021, instead of six.
However, as previously mentioned, KTM won't care. This is fantastic news for the orange army who are genuine title contenders in 2020. In the Constructors Championship, KTM are third and just six points behind leaders Yamaha, one behind Ducati. In the Team Championship, Red Bull KTM Factory Racing sit fourth, 18 off leaders Petronas Yamaha SRT, with Red Bull KTM Tech 3 seventh on 56 points.
And what about the Rider Championship? So far, 11 different riders have stood on the podium since the opening race of the season in Jerez, equalling the highest number of podium finishers after the opening five premier class races of a season from 1951, 1954, 1973 and 1974. Binder, Oliveira and Pol Espargaro are three of those.
Binder sits fourth in the World Championship, 21 adrift of Fabio Quartararo (Petronas Yamaha SRT). The difference between Binder in P4 and Oliveira in P9 is six points. SIX! In such a condensed and competitive season, there's no doubt about it: the rookie and sophomore are title contenders. Pol Espargaro is on 35 points in 10th, the Spaniard is a title contender in 2020 too. Without the Czech and Austria GP crashes, who knows where Pol would be in the Championship…
Asked about concessions in the post-race Press Conference, Oliveira said: "There is only one thing that matters and that is seeing the orange KTM in parc ferme on Sunday. Whatever the benefits we had in the past they are paying off now. So I guess it is time now for us to compare ourselves to the best brands here and to have the same rules.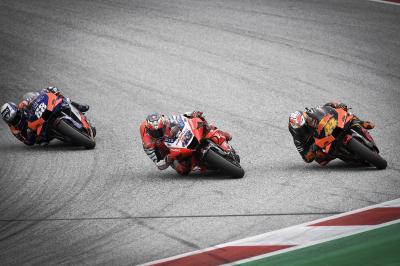 "I think KTM showed anyway that whatever they are going into they are not going to lose and I think it's a great thing what they have accomplished in MotoGP in such a short time that they should be happy about it.
"It's not just about having money and the financial resources to do things but in competition, it's about gathering the right group of people to work on the project and they were able to do this from scratch. I think also that Mike Leitner is also very responsible for this, a guy with a lot of experience, that at the end of the day, pushed the project to the next level and we the riders are benefitting from it and from now on we just need to race like anybody else."
KTM: concessions gone, title charge well and truly on. The orange army is a force to be reckoned with in 2020!
Every practice session, qualifying battle and race, exclusive interviews, historic races and so much more fantastic content: this is
VideoPass
!