Last on the Brakes: Marquez can still stir up the title race
The Official MotoGP™ podcast dissected the Indonesian GP as well as what the future holds for the eight-time World Champion
You don't win eight World Championships without pushing yourself to the very limit. The caveat of that is that when you are riding on the limit, you are susceptible to big moments like Marc Marquez experienced during the Warm Up session at the Pertamina Grand Prix of Indonesia.
var videoContainer; var modeAnalytics = false; var mode="demand"; var nid="411014"; var livetest= true; var lang = "en"; var messageToWatch = ""; var extendedMode = true; var optionSelected = "0";; var youboraActive = true; var analyticsDBIActive = "true"; var optionMeta="hdn"; var dornaAccount = "dorna"; var broadcaster = "0"; var claims_url = ""; var noRegister = ""; var subscribe = ""; var urlMeta = "";
// var externalbalancing = true; //get value from perms
window['flashvars_411014'] = multilive_url : '', broadcaster : broadcaster, optionMeta : optionMeta, baseURL : base_url + "/", secureURL : "https://secure.motogp.com" + "/", to : "", streamType : mode, uid : uid, nid : nid, optionSelected : optionSelected, url_claims : "", href_claims : location.href, referer : location.href, preroll : "", lang : lang, youboraActive : youboraActive, analyticsDBIActive : analyticsDBIActive, dornaAccount : dornaAccount, autoplay : false, alternative : false, skinName : 'motogp' ;
var params = menu: "false", wmode:"opaque", allowfullscreen: "true", bgcolor: "#000", allowscriptaccess: "always" ;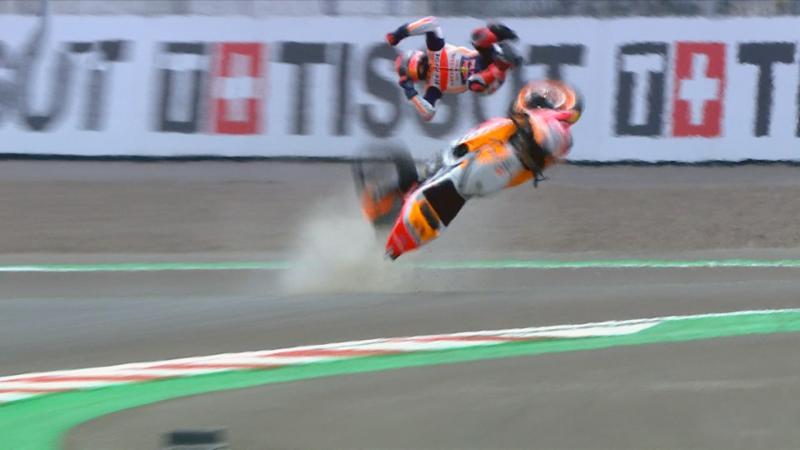 Marc Marquez walks away from huge Turn 7 highside 20/03/2022
Since Sunday, the Repsol Honda rider has since been diagnosed with a new episode of diplopia, with another spell on the sidelines looking likely, and the number 93's latest incident was up for discussion on MotoGP™ Podcast Last on the Brakes, which was live on Twitch. MotoGP™ Pitlane Reporter and premier class race winner Simon Crafar joined weekly hosts Frances Wyld and Elliott York, and they reflected on what makes Marc Marquez who he is.
"I love the way he rides," said Crafar before adding: "He is awesome, box office. Not just the crashes, but how hard he pushes. He looks for that little last bit everywhere, it's so nice to watch.
"He was doing what he does on rubber that he hadn't ridden on for a long time and the bike isn't made for, and he got caught out. Marc pushes the limit arguably more than anyone else and that's why he got caught out. I love that he does push it, I think back on the other rubber, if he can hopefully get his proper vision back, and back on the other rubber with this new bike, I think he is still going to stir the Championship up. I wouldn't be surprised if he comes back and is still fighting for the Championship at the end of the year. I don't want him to stop!"
Marc Marquez was just one of the many topics covered on the latest Official MotoGP™ podcast, along with the likes of Miguel Oliveira's (Red Bull KTM Factory Racing) return to form, Darryn Binder's (WithU Yamaha RNF MotoGP™ Team) impressive top 10 and much, much more. You can give it a listen by following the widgets above, or watch it on Twitch.