Last year "too spiky" – Oliveira
The Portuguese superstar goes in search of consistency in 2022 and reveals just how limiting his wrist injury was last season
After ending 2020 with a blockbuster win on home soil in Portimao, with a move to Red Bull KTM Factory Racing already confirmed, 2021 was shaping up to be a stellar year for Miguel Oliveira. And for a brief period, it was. However, a troubled RC16 and a right-hand injury heavily disrupted the Portuguese star's season.
Both Oliveira and teammate Brad Binder weren't able to consistently challenge for podiums and race wins last season. KTM struggled to get their bike firing on all cylinders, with Binder mentioning in particular that a lack of grip out of corners troubled him throughout the season.
Chatting after KTM Factory Racing's team presentation of the Red Bull and Tech3 outfits, Oliveira discussed what he wanted to improve on from 2021. The main thing was consistency, and being better at achieving "average" results when things aren't quite going his way. 
"I would say consistency, through different key moments of the Championship I wasn't able to finish the race. Two big examples are Austria race 2 and Misano race 2 where the result could have been quite good. The other thing is the pure consistency of the results. Finishing the races pays off a lot at the end of the Championship," began Oliveira.
The number 88 crashed at Turn 1 in Austria with six laps to go from 8th pace, just before the unbelievable drama unfolded that saw Binder take a mesmerising victory. Then, at the Emilia-Romagna GP, Oliveira crashed out of fourth place at the same time race leader Francesco Bagnaia (Ducati Lenovo Team) went down. Two potential podiums went astray.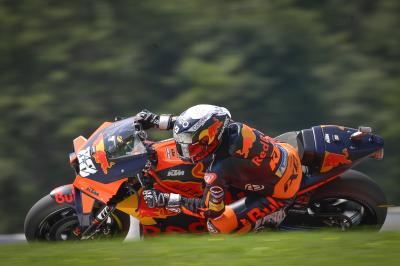 "As I said in the presentation, it's never easy to go to the limit and still not crash, but I find that my season was too spiky," continued the three-time premier class race winner. "Either the result was very, very good or the result was very bad. I could never do average and that's the average that I'm looking for. I would say this balance that I want to find more.
"With the bike, when I felt good I was very fast and I could deliver very good results, but when I didn't feel so good with the bike I just couldn't do average and that's what really lacked during my season. So on paper and in theory it's very easy to say but now on the bike it's where I need to feel comfortable. I need to feel at home and we need to start working already since the tests during this short five days we have to set up the bike and to start slowly the Championship and building the speed and building the pace to strong finishes."
Those very, very good results came in quick succession. Second place at Mugello was followed by victory in Barcelona, which in turn was backed up with a second place at the Sachsenring. Then, 5th at the Dutch TT signalled a great way to head into the summer break, as things started to look up for Oliveira and KTM for the second half of the season.
However, fortunes changed. A nasty crash on the exit of Turn 3 during Free Practice at the Styrian GP saw Oliveira injure his hand. An injury that would hamper the rest of his season.
"After the summer my wrist was not helping at all. I think in Spielberg everything was more, braking upright, do a corner, and then just go – a typical drag race kind of racetrack. In Silverstone I had the first real impact of the effect of my injury and how limited it was for me," revealed Oliveira.
"After finishing the race in Silverstone outside the points, I realised, three weeks after my injury, there was a long way to go. At that point I couldn't come back and just say 'I can't ride anymore for three races and just rest'. It was quite difficult, a challenge mentally because you want to go forward but you can't, you do things on the bike that on the data you see is not completely right and with the competition, it's very easy to qualify 17th, 18th, 20th… and then just survive during the race and hope someone crashes so you can get points.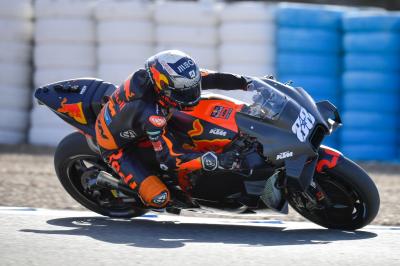 "It's quite frustrating to go to a race like that and expecting these kinds of things. And of course when you start at the back in MotoGP it's hard to go forward, it's super hard, and then you make mistakes, touch with some guys, you lose time, and the chance of a good result is gone. Even for one lap pace my wrist was not allowing me to be fast, I just sort of had to wait until it went away. I would point out these reasons for not having the consistency I had in past seasons."
Thankfully, Oliveira confirmed his wrist injury is completely healed ahead of the Sepang and Mandalika Tests. Two crucial tests for the entire MotoGP™ field. It'll be a great chance to see how competitive Oliveira and KTM are ahead of the 2022 season, as we know both rider and factory are capable of winning races. Next on the agenda is to challenge for the World Championship title. If Oliveira can deliver the consistency he's craving, there's no reason why a title charge can't come to fruition this year. 
Every practice session, qualifying battle and race, exclusive interviews, historic races and so much more fantastic content: this is
VideoPass!