Luigi Taveri named MotoGP™ Legend
The late Swiss rider is inducted into the Hall of Fame in Styria
Three-time World Champion Luigi Taveri is now officially a MotoGP™ Legend. The late Swiss rider was inducted into the MotoGP™ Legends Hall of Fame in the presence of his family at the Red Bull Ring in Austria, with Dorna CEO Carmelo Ezpeleta leading the ceremony.
Taveri was born in the canton of Zürich in 1929 and made his Grand Prix debut in 1954 in the 250cc and 500cc classes. The next season he competed on 125cc and 250cc machinery, and he came runner up in 1955 in the 125cc World Championship – taking his debut win in the first race of the year.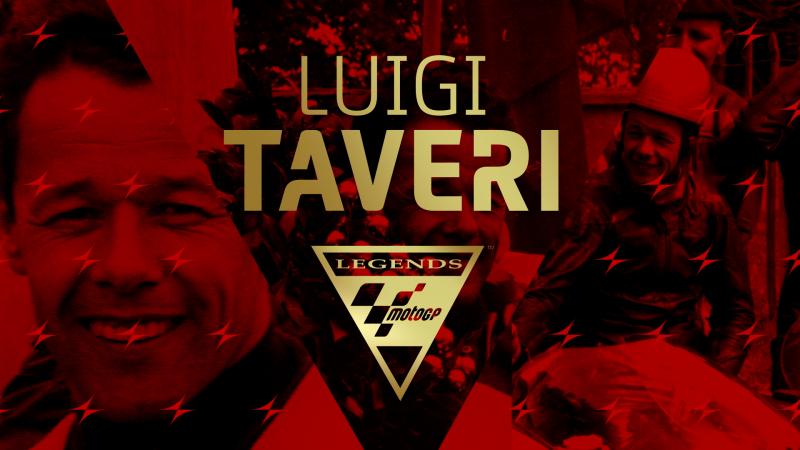 The very best from MotoGP™ Legend Luigi Taveri's career 18/08/2022
In 1962 he won his first World Championship, taking the crown in the 125cc class. He took two further Championships in the category, in 1964 and 1966, to secure his place in motorcycle racing history.
Between his debut in 1954 and his retirement at the end of 1966, the Swiss rider raced in the 50cc, 125cc, 250cc, 350cc and 500cc classes, taking wins on 50cc, 125cc and 250cc machinery, and finishing on the podium in the 350cc class. He is one of few riders to score Grand Prix points in the 50cc, 125cc, 250cc, 350cc and 500cc classes.
Carmelo Ezpeleta: "I had the possibility to see Luigi in Barcelona during his career; I was 18 years old when he became World Champion for the second time. For me, it's a fitting name; he's the first Swiss to be World Champion, and I remember very well his helmet and everything. The time was different, but we could be where we are right now thanks to people like Luigi, who started this Championship and made this incredible sport in front of everybody. It's a big pleasure for all the MotoGP™ family to welcome the name of Luigi Taveri; he was a real Legend and we are extremely happy to induct him into the Hall of Fame of MotoGP."
Blanca Taveri, Luigi's daughter: "It's a really big honour for us that Luigi is together with all those famous riders, and I know he would be very, very proud. He would search for words to say how honoured he would be. Luigi was a man with enormous willpower. '66 was his last year and Honda decided not to race in Japan because it wasn't on the Honda circuit. Monza was the race before Japan and Luigi knew that he had to win Monza to be the third-time World Champion. In the evening, he was very sick and that had to take him to hospital because he had over 40 degrees fever. I think that only because he had that much willpower, he was racing the next day, first the 125cc race – he won it – and then he had the 50cc race, and there it didn't go very well so he lost the opportunity to be double World Champion – in 125cc and 50cc – so that's a story about my dad.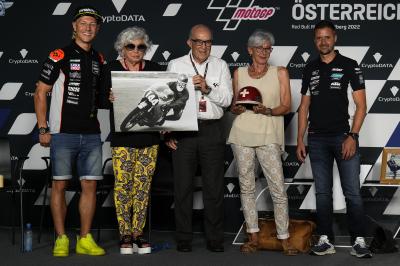 "I think it's like Mr Ezpeleta said; Luigi was a pioneer for motor racing in Switzerland, and for us, he's always been a hero. For me, my dad was always the best racer and it's difficult to explain because there are so many things I could tell about my dad; what he meant for us. He was a man who never lost the ground, he was very reliable, and he was just special. I think he was special for motorsport in Switzerland as well, and he opened the door for those riders who are coming now, and I hope there will be some Swiss riders coming up, because I think it's important for Switzerland to have motorbike riders in MotoGP."
In becoming a MotoGP™ Legend, Taveri joins a long list of greats that includes Valentino Rossi, Giacomo Agostini, Mick Doohan, Geoff Duke, Wayne Gardner, Mike Hailwood, Daijiro Kato, Eddie Lawson, Anton Mang, Angel Nieto, Wayne Rainey, Phil Read, Jim Redman, Kenny Roberts, Kenny Roberts Jr, Jarno Saarinen, Kevin Schwantz, Barry Sheene, Marco Simoncelli, Freddie Spencer, Casey Stoner, John Surtees, Carlo Ubbiali, Alex Crivillé, Franco Uncini, Marco Lucchinelli, Randy Mamola, Kork Ballington, Dani Pedrosa, Stefan Dörflinger, Jorge 'Aspar' Martinez, Jorge Lorenzo, Max Biaggi and the late Nicky Hayden.