Martin claims stunning pole as Bagnaia, A. Espargaro crash
Two of the title contenders take a tumble but they still out-qualify key rival Quartararo in Malaysia
Two MotoGP™ World Championship contenders crashed and another qualified all the way back on the fourth row as Jorge Martin (Prima Pramac Racing) shattered the All Time Lap Record in Q2 at the Sepang International Circuit. Championship Francesco Bagnaia (Ducati Lenovo Team) masterfully got himself out of Q1 only to drop his Desmosedici on its front end while on-track to go to provisional pole at the start of his second run in Q2 at the PETRONAS Grand Prix of Malaysia. He would be classified ninth but still outqualified title rivals Alex Espargaro (Aprilia Racing) and Fabio Quartararo (Monster Energy Yamaha MotoGP™), the former of whom went down at Turn 8 and the latter of whom could only take 12th on the grid.
Martin starts strongly as Bagnaia crashes
When Q2 kicked off, Martin immediately stormed to a 1:58.021, almost three tenths of a second quicker than Quartararo's All Time Lap Record of 1:58.303. Bagnaia was fastest in Q1 but had to start the second stanza of qualifying with a used soft Michelin slick on the back of his Ducati, and would be sixth at the end of the first runs on a 1:58.862. Still, he was ahead of his key rivals at that point, with Alex Espargaro eighth on a 1:58.935 and Quartararo, who had a finger strapped after a crash in FP4, 11th on a 1:59.215.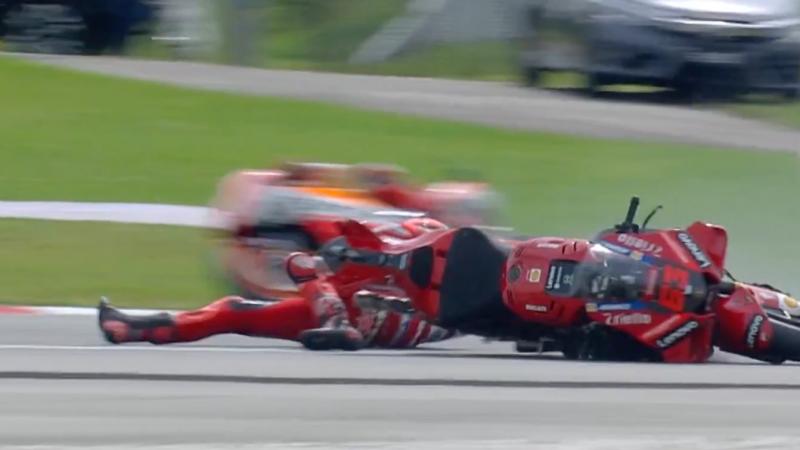 Bagnaia blows Q2 chances with Turn 4 crash 22/10/2022
When Bagnaia went back out for his second run, Marquez latched on for a tow, as he had done in Q1. The tow was lost when Bagnaia had a front-end lose at Turn 4 having just set a new fastest first sector, and the eight-time World Champion was on his own. It proved little impediment, with Marquez jumping from the very bottom of the timing screen to third by clocking a 1:58.454.
Dramas for Quartararo and A. Espargaro as Martin continues to blitz them
The Honda man's effort left Quartararo 12th and the Frenchman had a big front-end scare of his own at Turn 8. He saved it, but ran out of time to beat the chequered flag and get one more lap in, sealing his fate. Aleix Espargaro also sealed his own fate when he then indeed did take a tumble at Turn 8, and a chance to capitalise on the misfortunes of Bagnaia and Quartararo had gone begging.
Meanwhile, Martin was on the charge again! He slashed multiple tenths more from his new lap record to clinch pole with a 1:57.790, with Enea Bastianini (Gresini Racing MotoGP™) qualifying second courtesy of the 1:58.246 he clocked on his first run, and Marquez to join them at the front of the field for lights out. Row 2 will be the Mooney VR46 Racing Team Ducatis of Marco Bezzecchi and Luca Marini sandwiching last-start race winner Alex Rins (Team Suzuki Ecstar) in fifth.
Franco Morbidelli (Monster Energy Yamaha MotoGP™), who will have to serve a Double Long Lap penalty on Sunday afternoon after riding slowly on the race line in front of Bagnaia and Marc Marquez in FP3, heads up Row 3, where he will be joined by Maverick Viñales (Aprilia Racing) and Bagnaia. On Row 4, we find second and third in the Championship, with Aleix Espargaro 10th, Quartararo 12th, and Joan Mir (Team Suzuki Ecstar) splitting them.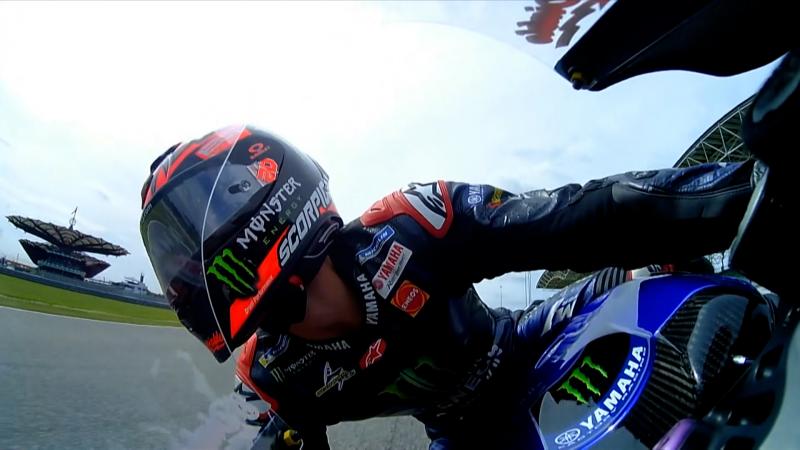 PETRONAS Grand Prix of Malaysia: MotoGP™ Q2 22/10/2022
Earlier, it had also been a blockbuster Q1 with both factory Ducatis, Marc Marquez, Johann Zarco (Prima Pramac Racing), and more vying for the two positions which would take them into Q2. The threat of rain only increased the urgency, and Bagnaia was forced to tow several riders around with him when he went out for his first run. It mattered little for the Italian, who went top with a 1:58.895 on his first flyer and backed it up with a 1:58.645 next time through, as teammate Jack Miller sat second on a 1:59.064.
The second runs became a high-speed game of cat-and-mouse. Miller was seemingly sent out as a decoy and Marc Marquez, among others, duly followed the #43 entry back around the race track, leaving Bagnaia to his own devices. However, then the Australian ran wide at Turn 4 and Marc Marquez was the head of the train – until he too ran wide, at Turn 9, while brother Alex Marquez (LCR Honda Castrol) had crashed at Turn 8.
Miller crashes and the door is open for M. Marquez
Miller was back in the locomotive position as riders started their respective final laps, but only as far as Turn 2, when he highsided in dramatic fashion – fortunately he would be seen sitting back in the Ducati Lenovo Team box a few minutes later. Unfortunately for him, he opened the door for Marc Marquez to snatch the other Q2 berth with a 1:58.878 on that lap, and Brad Binder (Red Bull KTM Factory Racing) took third for the session on a 1:59.053.
Binder is therefore set to start 13th, ahead of Miller, Cal Crutchlow (WithU Yamaha RNF MotoGP™ Team), Fabio Di Giannantonio (Gresini Racing MotoGP™), Pol Espargaro (Repsol Honda Team), Johann Zarco (Prima Pramac Racing), and Miguel Oliveira (Red Bull KTM Factory Racing) in 19th. Remy Gardner (Tech3 KTM Factory Racing) was classified 10th in Q1 after a crash at Turn 8 and hence will line up 20th on the grid, ahead of Alex Marquez, Raul Fernandez (Tech3 KTM Factory Racing), Tetsuta Nagashima (LCR Honda Idemitsu), and Darryn Binder (WithU Yamaha RNF MotoGP™ Team), who also had a spill.
After one of the most exhilarating afternoons of qualifying, the scene is set for a huge Sunday at Sepang. Warm Up starts at 10:40, then we will find out of Bagnaia can convert Match Point in the race itself from 15:00 (GMT +8)!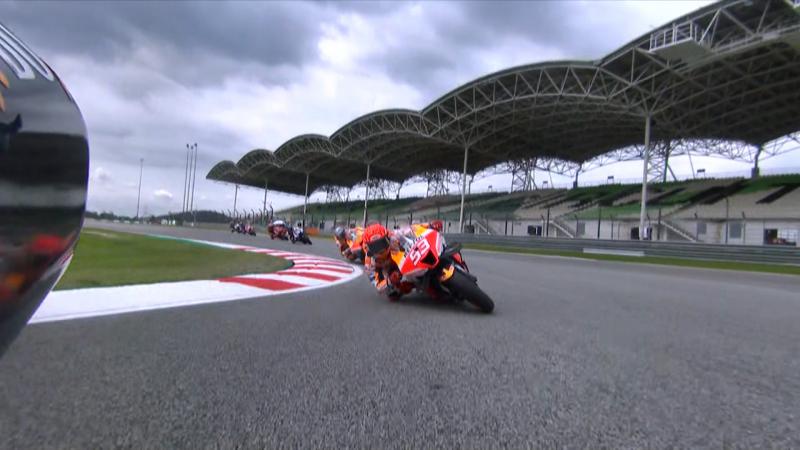 PETRONAS Grand Prix of Malaysia: MotoGP™ Q1 22/10/2022
MotoGP™ Q2 Top 10
1. Jorge Martin (Prima Pramac Racing) – 1:57.790
2. Enea Bastianini (Gresini Racing MotoGP™) + 0.456
3. Marc Marquez (Repsol Honda Team) + 0.664
4. Marco Bezzecchi (Mooney VR46 Racing Team) + 0.700
5. Alex Rins (Team Suzuki Ecstar) + 0.785
6. Luca Marini (Mooney VR46 Racing Team) + 0.789
7. Franco Morbidelli (Monster Energy Yamaha MotoGP™) + 0.864
8. Maverick Viñales (Aprilia Racing) + 0.976
9. Francesco Bagnaia (Ducati Lenovo Team) + 1.072
10. Aleix Espargaro (Aprilia Racing) + 1.145