McPhee: "It was important to have started with a podium"
The Scotsman gives an insight into his lockdown life after challenging for victory at the opening round in Qatar
What's the status of John McPhee at the moment? 
"I have actually been living with my Mum and Dad back in Scotland for the last few weeks. I came here pretty much straight from Qatar."
When did the quarantine start in your country and how are you dealing with it?
"We've started week four of quarantine and the restrictions are more or less the same as the rest of the world. However, we're allowed to exercise outside once a day, so that's been a bit of a saviour for me because the weather has been really nice!"
How are you training and keeping fit for the restart of the season?
"I've been making the most of the good weather and cycling every day, either my road bike or sometimes my mountain bike. I've been using the time to keep fit, and actually maybe become even fitter as I've been training continuously. For my second session of the day, I've been doing some general strength and conditioning work, either in the house or in the garden. I've dedicated some time to working on some old injuries and recovering those areas of my body that aren't so strong. There are always areas to improve so I've been focusing on them."
Have you started to do something that you had no time to do before?
"It's very rare that I actually get to spend time at home, as I normally live in Andorra and only come back for a weekend or few days, so of course the number one thing has been spending time with family. I've been helping my parents in the garden and doing some odd jobs to help them out. Also my Dad and I have been in the garage with the bikes. We have some of my old bikes and some of his that need some repairs or rebuilding. So we've been spending a lot of time together working on them. I think like everyone at the moment, I have a list of jobs that keep stacking up and now is the time to do them. This bad situation has given us a chance to make our way through these things and it's made me much more organised with my normal day to day life."
Support for this video player will be discontinued soon.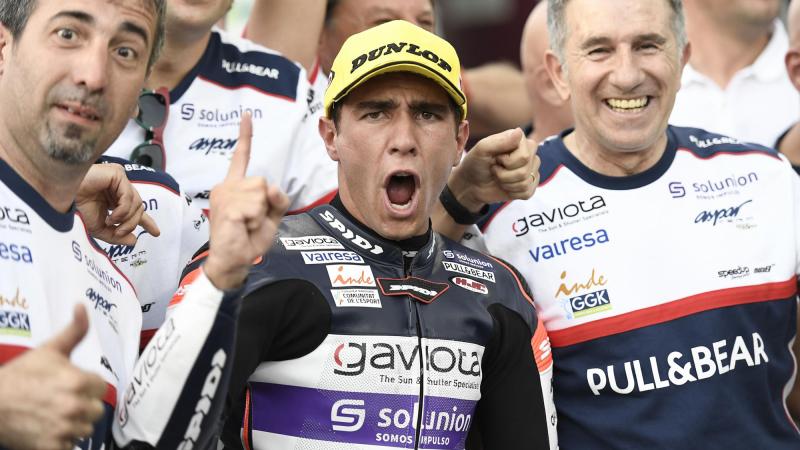 Thoughts from Qatar: Arenas tops McPhee and Ogura 08/03/2020
How did you feel at the first GP of the season? At the least the podium gave you something positive before lockdown.
"The first race of the season was fantastic! I think looking back now with this long break where we don't know when we can go back racing again, it was really important for me and the team to be able to have started with a podium and even fighting for the victory in Qatar. We had a really strong pre-season and worked a lot on our settings from last year. It's the first time in my full racing career that I've ever had the same bike, the same team, the same people to work with and it's been so valuable because I've been able to arrive at the first test of the year, and especially at the first race of the year, and be smiling inside my helmet from the first few laps. The feeling was there, the confidence was there and we could grow together towards our targets for each test and the race."
Do you feel that you have made an important step up this year?
"I feel like the biggest step forward has been from having that continuity with the team and the bike. I don't necessarily feel like I was riding any differently, except maybe a little more confidently because of the fantastic team and people around me, but I think it's because we know what works well so we've been able to work on improving the areas that we're not so strong in. So overall we've taken our complete level one step higher."
How is your relationship with team-mate KIP?
"My relationship with KIP is fantastic! All through pre-season testing and the first race we worked really well together. He's such a nice guy. We were also training a lot together in the pre-season too. I feel like we both have a lot of respect for each other. Of course, normally the first target for any rider is to beat your team-mate but with KIP and I there's a lot of respect and we're both happy to help each other. KIP is a two-time race winner in Moto3 and we know that he can be extremely strong at certain circuits and in certain conditions. I was expecting some great races between us this year."
Who do you think are the contenders for the 2020 title?
"If we get to race I feel like the 2020 championship is going to be one of the most exciting and closest yet. Every year some move up to Moto2 but this year it feels like we've had so many come into the championship and be quick. We've already seen in Qatar that there were 15 riders all fighting for the race win. To actually say one name is very difficult, but of course guys like [Tony] Arbolino, [Albert] Arenas and [Ai] Ogura looked strong in testing and the race. Fortunately, I feel really good and I think we're in with a good chance to fight when we get racing again."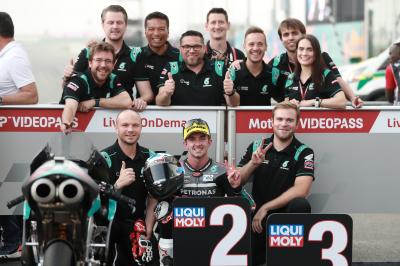 Do you have a message for those living in quarantine at the moment?
"Just keep safe, keep calm and remember that this won't last forever. Maybe it will let people look at the important things in life, like family and health, and all the good things they have around them. We can all focus on coming back at the end of this stronger and more grateful for what we have in life."
"To all the MotoGP fans, thank you for the support, all the messages and all the comments throughout this down time. We appreciate your patience and we hope to be back racing as soon as possible. We want to give you guys a show as soon as all this is finished and we're back to normal!"