Mir suffers right ankle fractures after Lap 1 highside
The 2020 World Champion will undergo further checks on Monday to discover the full extent of his injury after the Turn 4 crash in Austria
After a huge Turn 4 highside on Lap 1 of the CryptoDATA Motorrad Grand Prix von Österreich, 2020 World Champion Joan Mir (Team Suzuki Ecstar) has suffered a right ankle fractures. 
var videoContainer; var modeAnalytics = false; var mode="demand"; var nid="432404"; var livetest= true; var lang = "en"; var messageToWatch = ""; var extendedMode = true; var optionSelected = "0";; var youboraActive = true; var analyticsDBIActive = "true"; var optionMeta="hdn"; var dornaAccount = "dorna"; var broadcaster = "0"; var claims_url = ""; var noRegister = ""; var subscribe = ""; var urlMeta = "";
// var externalbalancing = true; //get value from perms
window['flashvars_432404'] = multilive_url : '', broadcaster : broadcaster, optionMeta : optionMeta, baseURL : base_url + "/", secureURL : "https://secure.motogp.com" + "/", to : "", streamType : mode, uid : uid, nid : nid, optionSelected : optionSelected, url_claims : "", href_claims : location.href, referer : location.href, preroll : "", lang : lang, youboraActive : youboraActive, analyticsDBIActive : analyticsDBIActive, dornaAccount : dornaAccount, autoplay : false, alternative : false, skinName : 'motogp' ;
var params = menu: "false", wmode:"opaque", allowfullscreen: "true", bgcolor: "#000", allowscriptaccess: "always" ;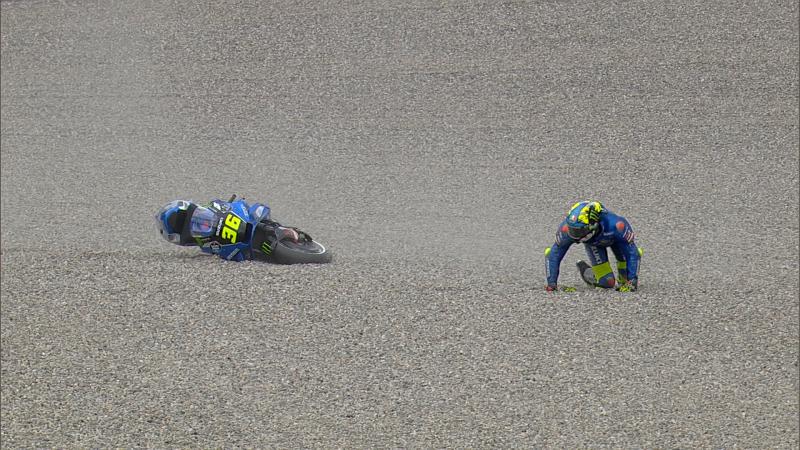 Mir suffers ankle injury after major highside 21/08/2022
The Spaniard was launched from his GSX-RR on the exit of Turn 4 and landed heavily in the gravel trap, with a trip to the medical centre straight after the crash revealing injuries to his right ankle. Mir will undergo further checks on Monday to find out the full extent of his injury.
"Mir made a quick start and was getting in the mix when he was launched into the air and landed heavily. He went directly to the medical centre where X-rays confirmed fractures and bone fragments in his right ankle. He will undergo further checks on Monday, including an MRI scan to rule out ligament damage," said Team Suzuki Ecstar in a press release after the race.
???? JOAN MIR UPDATE
"I had a very big crash at Turn 4. I lost the rear and it was a high side. It could've been a lot worse, so I feel lucky. Initial checks show some bone fragments and fractures in my ankle. Tomorrow I'll go for further checks and an MRI" @MotoGP @JoanMirOfficial pic.twitter.com/Yk2pInBGpV

— Team Suzuki Ecstar (@suzukimotogp) August 21, 2022
We'll find out more information about Mir's foot injury in due course as the Spaniard and Suzuki hope the number 36 is fit to race at the upcoming Gran Premio Gryfyn di San Marino e della Riviera di Rimini, which takes place between the 2nd and 4th of September.