MotoE™ Test: Smith fastest as rain disrupts Day 2
The British rider topped the timesheets as we see limited action take place in Jerez due to the weather
The returning Bradley Smith (WithU GRT RNF MotoE™ Team) topped Day 2's timesheets at the Official FIM Enel MotoE™ World Cup Jerez Test as rain heavily disrupted proceedings on Tuesday.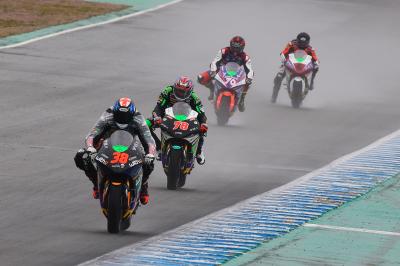 There was little track action to be had in the tricky conditions as Smith and MotoE™ rookie Alex Escrig (Tech3 E-Racing) were the only two riders to venture out in the first session. Kevin Zannoni (Ongetta SIC58 Squadra Corse) and Mattia Casadei (Pons Racing 40) joined Smith on track in the second session, before Hikari Okubo (Avant Ajo MotoE™), Marc Alcoba (Openbank Aspar Team), Alessio Finello (Felo Gresini MotoE™), reigning Cup winner Jordi Torres (Pons Racing 40) and Maria Herrera (Openbank Aspar Team) join the fray in the final session.
At the end of the penultimate day of testing, Smith's wet weather 1:58.080 – set in the second session – was the fastest lap as the riders and teams hope for the rain to clear ahead of the final day of pre-season running on Wednesday. Smith topped the final session with a 1:58.714, three tenths quicker than Casadei's effort.
var videoContainer; var modeAnalytics = false; var mode="demand"; var nid="415321"; var livetest= true; var lang = "en"; var messageToWatch = ""; var extendedMode = true; var optionSelected = "0";; var youboraActive = true; var analyticsDBIActive = "true"; var optionMeta="hdn"; var dornaAccount = "dorna"; var broadcaster = "0"; var claims_url = ""; var noRegister = ""; var subscribe = ""; var urlMeta = "";
// var externalbalancing = true; //get value from perms
window['flashvars_415321'] = multilive_url : '', broadcaster : broadcaster, optionMeta : optionMeta, baseURL : base_url + "/", secureURL : "https://secure.motogp.com" + "/", to : "", streamType : mode, uid : uid, nid : nid, optionSelected : optionSelected, url_claims : "", href_claims : location.href, referer : location.href, preroll : "", lang : lang, youboraActive : youboraActive, analyticsDBIActive : analyticsDBIActive, dornaAccount : dornaAccount, autoplay : false, alternative : false, skinName : 'motogp' ;
var params = menu: "false", wmode:"opaque", allowfullscreen: "true", bgcolor: "#000", allowscriptaccess: "always" ;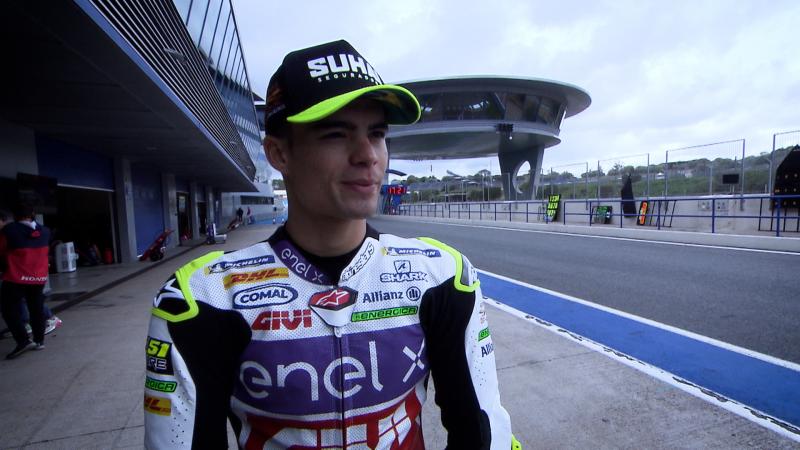 MotoE™ Test: Granado, Ferrari and Okubo top Day 1 timesheets 11/04/2022
Interviews and a report will be posted on motogp.com during the final day of pre-season testing for the electric class, so keep an eye out for that for all the latest ongoings from Jerez. Then, it'll be full steam ahead to Round 1 of the season at the Spanish Grand Prix on the 29th of April to 1st of May.