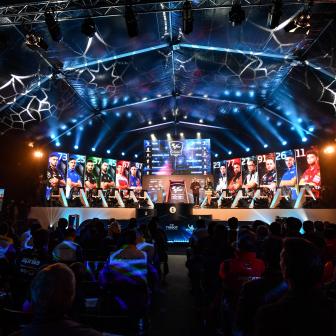 MotoGP™ eSport shortlisted in 2020 Sport Technology Awards
Dorna Sports' record-breaking series recognised in the 'Use of Esports by a Sports Brand' category.
As it powers on for another record-breaking season, there's even more exciting news for the MotoGP™ eSport Championship as the series has been shortlisted in the 2020 Sports Technology Awards. The 'Use of Esports by a Sports Brand' category sees Dorna Sports acknowledged for the MotoGP™ Esport Championship, up against Formula One Digital Media ( for F1 Esports) and the NBA and Take-Two Interactive (for the NBA 2K League).
The 'Use of Esports by a Sports Brand' award celebrates the innovative use of esports by 'traditional' sports brands, from teams to athletes, broadcasters to rights holders and many more. The MotoGP™ eSport Championship, now in its fourth season, continues smashing boundaries and Dorna Sports is delighted to see the series recognised by the prestigious awards, which received entries from 45 sports and over 30 countries this year.
The MotoGP™ eSport Championship's numbers over the first three seasons demonstrate the high level of interest in the series, as well as its incredible rate of growth. Worldwide coverage provided by 15 television partners and digital channels across YouTube, Facebook, Twitter and Instagram – as well as on motogp.com and the MotoGP™ eSport official website – have given the Championship a truly global presence: 64 million video views online, 247 million impressions and over eight million engagements, with more than 50% of the audience between 13 and 24 years old. With 20 Online Challenges and seven on-site events as well, the MotoGP™ eSport Championship is one of the biggest racing competitions in the gaming landscape.
2019 came to a dramatic close with AndrewZh claiming the crown for Ducati, beating two-time Champion Trastevere73 (Monster Energy Yamaha MotoGP) in an exciting changing of the guard. Now, the search for the 2020 Champion is in gear too. The 2020 online Pro Draft is underway before the four on-site rounds in the Global Series, so there's never been a better time to tune in and get involved.
It's time to engage 'Time-Attack' mode!