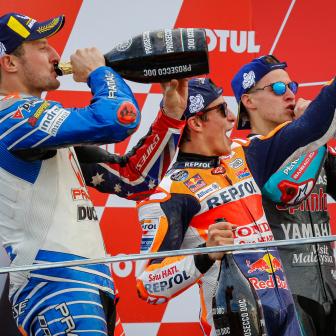 MotoGP™ on Roku: better than ever in 2020
Spoiler-free, tonnes of historical content, improved design and free video content!
Ahead of the Moto2™ and Moto3™ riders getting their 2020 campaigns underway at the QNB Grand Prix of Qatar, there's something we thought you should know about MotoGP™ VideoPass on Roku.
If you've been out and about enjoying your weekend and managed to avoid any Free Practice, qualifying or race spoilers, The MotoGP™ Roku app has you covered for when you want to go online and catch up. The Roku TV app allows you to set up an automatic spoiler free setting, which – when you open the app – will give nothing away in terms of results and information you want to avoid.
You have unprecedented access to historical Grand Prix content dating back to 1992, meaning you can watch your favourite races whenever you like. What's more, the app has undergone some design upgrades to improve your viewing experience in 2020.
Download the MotoGP™ Roku app and sign up for FREE with your email address to start enjoying a wide range of MotoGP™ video content.
Every race weekend LIVE and OnDemand, exclusive interviews, historic races and so much more fantastic content: this is
VideoPass
!