Musical chairs in the KTM rider line-up?
The MotoGP™ silly season has taken yet another twist, thanks to the Austrian manufacturer
Miguel Oliveira is being lined up for a potential move from Red Bull KTM Factory Racing to Tech3 KTM Factory Racing as the Austrian marque looks to bring another experienced rider into its MotoGP™ line-up. Oliveira is still wanted by KTM, but room needs to be made somewhere in order to accommodate the probable arrival of a rider from a rival factory team – and the Portuguese incumbent is not too thrilled about the idea.
Pol Espargaro (Repsol Honda Team), Jack Miller (Ducati Lenovo Team), and Alex Rins (Team Suzuki Ecstar), are the subject of talks with the house of orange about saddling up on an RC16 in the 2023 MotoGP™ season. However, with Brad Binder already contracted until the end of 2024, there are as many as four riders, Oliveira included, who have their eyes on the other, as yet unspoken for seat at Red Bull KTM Factory Racing.
Pit Beirer, KTM Motorsport Director, insists nothing is set in stone yet, but confirmed there is an idea that Tech3's first ever premier class race winner could go back there.
"We had a discussion internally, but he is not confirmed for Tech3," Beirer told MotoGP™ Pitlane reporter Jack Appleyard.
"I told him we are talking to other riders and we want to be really open. A little bit later this year, to decide which rider will be where, there's a chance he could move over to Tech3. That's all I told him, and I told him to be aware of this.
"I don't want to use an option to make him stay because he has to stay, but I wanted to give him this information. But I told him clearly, we will make him an offer, but he must be open to one of these four spots. He was not super happy with this information. On the other side, I got a really good response from him, saying he wanted to stay with KTM, so he will stay a KTM rider."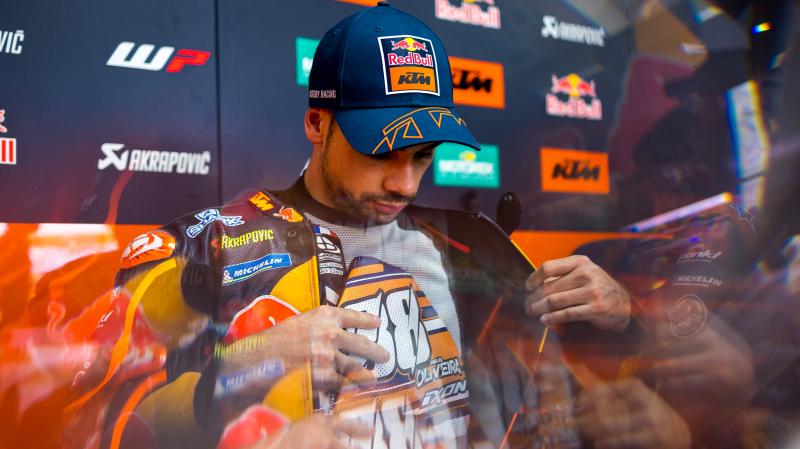 "We're analysing other options" - Oliveira talks KTM future 27/05/2022
Oliveira, on the other hand, seems not so certain that he will stay a KTM rider.
"It's still an open topic, to be honest with you," he told motogp.com.
"It's true that I was offered this position, but at this moment, we're still analysing some other options and it's still everything remains open. So, hopefully in the next week or two, we'll be able to come to a conclusion on this subject."
Asked then if it was a question of which KTM team, he quickly said "No", but if it is a question of whether he will stay at KTM, Oliveira said, "Also that."
Beirer confirmed that talks are indeed being had with the Espargaro, Miller, and Rins parties, and said its line-up should be finalised in "a couple of weeks". That would also mean decisions on MotoGP™ rookies Remy Gardner and Raul Fernandez, who are riding at Tech3 this year.