New BMW M3 Touring Safety Car debuts at Goodwood
Ahead of Silverstone, the new BMW M3 Touring Safety Car breaks cover to take on the hillclimb at the world renowned Festival of Speed
To mark its 50th birthday, BMW M GmbH showcased a number of high-performance automobiles at the Goodwood Festival of Speed, including the new MotoGP™ Safety Car. Based on the first-ever BMW M3 Competition Touring with M xDrive, the car was in a special livery in honour of the 50th birthday celebrations and the decades of partnership between BMW M and MotoGP™.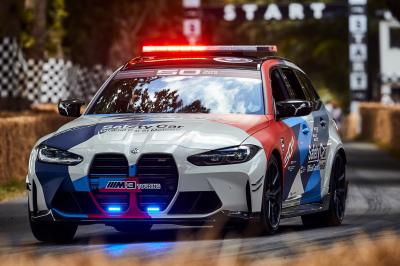 The appearance was also its global premiere ahead of its debut on the racetrack in August at the Monster Energy British Grand Prix at Silverstone.
This newest member of the safety car fleet is based on the first-ever BMW M3 Competition Touring with M xDrive (fuel consumption, combined: 10.4 – 10.1 l/100km correspond to WLTP, CO2 emissions, combined: 235 – 229 g/km correspond to WLTP)*, which also celebrated its global debut at Goodwood. It combines the high level of technological capability, performance and know-how of the BMW M3 and BMW M4 family with the practical nature of a five-door touring model.
Franciscus van Meel, CEO of BMW M GmbH: "The world premiere of the new BMW M3 Touring represents another highlight in our anniversary year, as we will be introducing a BMW M3 as a touring model for the very first time in our 50-year history. Including this new high-performance automobile in our fleet of MotoGP safety cars is the obvious next step for us. Throughout our decades of partnership with MotoGP rights owner Dorna Sports, we have always set great store by providing the newest BMW M models for safety purposes at the circuit, and we are continuing this tradition with the BMW M3 Touring MotoGP Safety Car."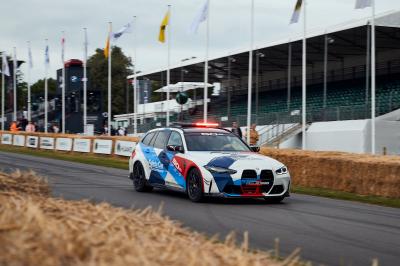 The visual appearance of the new BMW M3 Touring MotoGP™ Safety Car is a tribute to 50 years of BMW M and to the decades of partnership with MotoGP™. The safety car sports a special 50 Years of BMW M Livery, and all MotoGP™ safety cars from 1999 to the present day are listed on the car.
The BMW M3 Touring MotoGP™ Safety Car will be equipped with the entire product range from BMW M Performance Parts for its appearance on the racetrack. Further modifications to the MotoGP™ safety cars include Recaro race seats, 4-point harness, safety cross beam, roof lights, front flashes, emergency disconnector and a fuel extraction system.