Nieto offers 2023 update on Bezzecchi, Marini, Vietti
Mooney VR46 Racing Team Manager, Pablo Nieto, spoke on the MotoGP™ Podcast about his riders' latest in the silly season merry-go-round
Pablo Nieto, Mooney VR46 Racing Team Manager, was the latest guest on the MotoGP™ Last on the Brakes Podcast and with 2023 silly season talk rife in the paddock at the moment, the Spaniard offered an in-depth update on three of his riders: Luca Marini, Marco Bezzecchi and Moto2™ World Championship leader Celestino Vietti.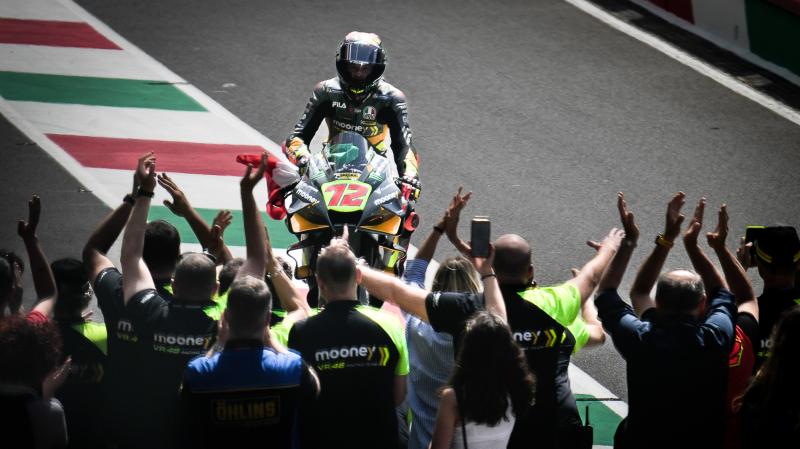 Mugello's novel front row react to their season best results 29/05/2022
Nieto joined hosts Fran and Elliott live on Twitch just a couple of days after witnessing both Bezzecchi and Marini pocket their best results of the season at their home race at Mugello. For Bezzecchi, a maiden front row and P5 finish further highlighted his classy start to life as a MotoGP™ rider, and with seven of Ducati's eight seats yet to be confirmed for 2023, where does Nieto expect the young Italian to be next season?
"I think for our riders in MotoGP, I hope they will continue with us. We are making a very good team. It's important the riders have their own team, for example with Marco we make a fantastic team with Matteo Flamini who is doing an amazing job," said Nieto.
"We have to understand that he was an electronic engineer and he jumped to crew chief, they are making the team. This is one of the most important things for the riders. I think it's not good that the riders change every year and go to another place because in the end you change his philosophy and it's not good for the rider, results, nothing.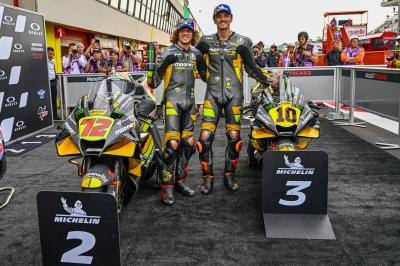 "Minimum, minimum, you have to be two, three years with all his staff and we are making this amazing job for him and I think that he is quite happy and if he is happy he will stay with us. I know he will be one of the riders that all the manufacturers want because he starts to be a really fast rider and this is important. I like it, when it happens I don't know, but I like when one manufacturer comes to us and says 'look I want Marco for next year', but at the moment I think he has to continue with us."
Since the Jerez Test, Marini has found pieces of the GP22 puzzle that he'd been missing at the start of the season, and the Italian GP – in his own words – was the best weekend he's had in the premier class to date. Nieto also spoke about the sophomore's future, strongly hinting too that he will remain with the Mooney VR46 setup.
"And in the same way with Luca Marini. Luca has David who has a bit more experience as crew chief because he did two years with Valentino. It's important that all the team are growing up together and the results have to arrive in the next year, all the results we're making this year is because nobody wants to make it better more than us.
"We have more passion, that's why we're making a fantastic job, and we have to continue like this and the rides know it, and I hope the riders will continue with us."
So where does that leave current intermediate class title leader Vietti? Nieto admits that talks about his future haven't yet started but will do in the next couple of weeks. Will there be any room at the MotoGP™ inn though, given the current silly season climate after Suzuki's shock announcement?
"With Celestino, it's difficult to say because if we are fighting for the Championship and if in the end he's Champion, he has to try to jump to MotoGP but at the moment we have to continue race by race, and then I think in the next couple of races we have to start talking about the future. But at the moment we didn't talk about the future for Celestino," said Nieto.
You can head over to Twitch and watch the latest episode – and any you may have missed – of the MotoGP™ Podcast with Pablo Nieto, who also spoke about the phenomenal weekend at Mugello, Valentino Rossi's influence, MotoGP™'s ever-increasing top speed and more.