O'Gorman graduates from the Honda British Talent Cup
A new pathway of promotion begins for the BTC in 2021, with the next step on the Road to MotoGP™ set to be decided each season
The Honda British Talent Cup is a vital path on the Road to MotoGP™, and each season there is an opportunity for promotion for the rider Dorna Sports deems to have shown the most progress, pace and promise across the season.

British Talent Cup: a cradle of opportunity for young riders 23/09/2021
Previously, that was a guaranteed place in the FIM Moto3™ Junior World Championship, with former BTC riders already having joined the Junior Talent Team and graduated to other teams in the FIM CEV Repsol paddock. 2019 BTC Champion Scott Ogden took that path, and he will now line-up full-time in the Moto3™ World Championship in 2022 – alongside fellow BTC alumnus Josh Whatley.
However, that path is now changing and the championship into which the selected rider will be promoted will depend on the level and potential of the chosen rider each season. Dorna and MSVR will study the BTC field throughout the year and make this decision in order to provide the opportunity that is the best fit for the chosen rider to keep progressing and learning on the Road to MotoGP™. The options will be either the Hawkers European Talent Cup, Red Bull MotoGP Rookies Cup or FIM Moto3™ Junior World Championship.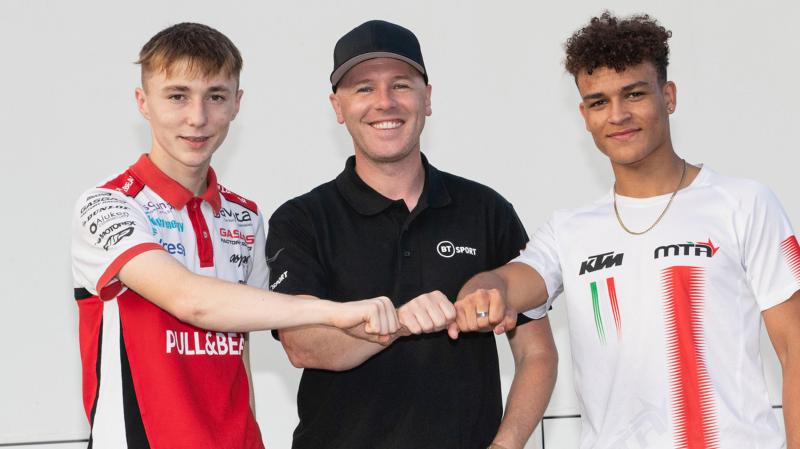 "A whirlwind!" - An all new British racing team is born 17/09/2021
This season, the BTC rider chosen by Dorna Sports to graduate on the Road to MotoGP™ is 2021 Champion Casey O'Gorman, and he will take a place in the 2022 Red Bull MotoGP Rookies Cup.
Every practice session, qualifying battle and race, exclusive interviews, historic races and so much more fantastic content: this is
VideoPass!