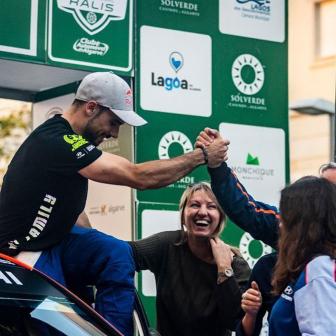 Oliveira finishes P3 in Rally Casinos do Algarve
The Portuguese star competed in the event back on home turf after the Valencia Test
Not long after completing his first test with CryptoDATA Aprilia RNF MotoGP™ Team in Valencia, Miguel Oliveira swapped two wheels for four to claim a podium finish at the Rally Casinos do Algarve back on home soil.
The Portuguese star also proved competitive, with the number 88 finishing in an impressive third place. Earlier in the year, Oliveira enjoyed previous success on four wheels when he and his father Paulo took the TCR class win in Vila Real for Campeonato Portugal de Velocidade.
"It was a fantastic and unforgettable weekend that allowed me to fulfil my dream of participating in a rally. Above all, I had a lot of fun and it was great to receive all the affection from the public," said Oliveira, as reported by Portuguese publication SAPO Desporto.