Petrucci exceeds expectations in maiden Dakar Rally
Not only did the Italian complete the endurance event, but he also claimed a hugely impressive stage win on Day 5
Former MotoGP™ star Danilo Petrucci has moved onto pastures anew after leaving the paddock at the end of last season. Remaining within the Tech3 family, the Italian has been participating in the world-renowned Dakar Rally as a rookie, putting in a series of impressive performances.
Raising eyebrows with a consistent display of speed and skill on his rally debut with Tech3 KTM 450 Rally, the two-time MotoGP™ race winner added a stage win at Dakar to his lengthy list of achievements. The 31-year old becomes the first MotoGP™ rider to ever take a stage a win in the rally, doing so on Day 5 of this year's event.
 Managing to exceed his initial expectations of just completing the race, Petrucci was overjoyed by the experience.
Today I had other issues with the bike that stops again, don't understand why. Angry apart, things that makes me happy it's giving emotions to the people, like these child today pic.twitter.com/mQhTjQc1zm

— Danilo Petrucci (@Petrux9) January 11, 2022
Danilo Petrucci: "I am so happy to finally reach the finish line and to complete the goal I set out to do. It's been a tough time both leading up to the event and the race itself, but to complete my first ever Dakar feels amazing. I'm really happy with my performance but over the last couple of days I have had some crashes and feel quite sore at the moment. Thanks to all the team for their hard work, it has been an amazing experience and one of the hardest things I have ever done."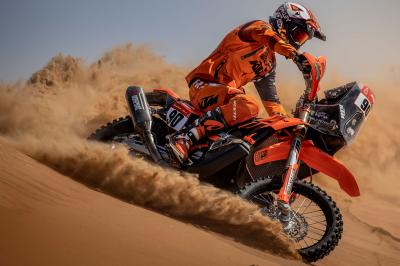 A massive congratulations to you Danilo on an experience of a lifetime, and we can't wait to see you back in action next year!
Every practice session, qualifying battle and race, exclusive interviews, historic races and so much more fantastic content: this is 
VideoPass!