Polesitter Quartararo beats Viñales on Sunday morning
The reigning Champion was 0.4s clear of his former teammate as Marc Marquez walks away from a huge Turn 7 crash
Reigning World Champion and Pertamina Grand Prix of Indonesia polesitter Fabio Quartararo (Monster Energy Yamaha MotoGP™) continued to look strong in Warm Up, as the Frenchman beat second place Maverick Viñales (Aprilia Racing) by 0.407s with a 1:32.001. Miguel Oliveira (Red Bull KTM Factory Racing) finished P3, as we witness a horrifying crash for Marc Marquez (Repsol Honda Team).
The eight-time World Champion suffered a shockingly huge highside towards the end of the 20-minute session. The rear of his RC213V suddenly let go at the rapid right-hander, but thankfully the eight-time World Champion was able to walk away from the scary incident. The number 93 headed to the medical centre from a check-up.
It was Marc Marquez who finished P4 in the Sunday morning stint, the Spaniard finished one place ahead of HRC teammate Takaaki Nakagami (LCR Honda Idemitsu).
var videoContainer; var modeAnalytics = false; var mode="demand"; var nid="411014"; var livetest= true; var lang = "en"; var messageToWatch = ""; var extendedMode = true; var optionSelected = "0";; var youboraActive = true; var analyticsDBIActive = "true"; var optionMeta="hdn"; var dornaAccount = "dorna"; var broadcaster = "0"; var claims_url = ""; var noRegister = ""; var subscribe = ""; var urlMeta = "";
// var externalbalancing = true; //get value from perms
window['flashvars_411014'] = multilive_url : '', broadcaster : broadcaster, optionMeta : optionMeta, baseURL : base_url + "/", secureURL : "https://secure.motogp.com" + "/", to : "", streamType : mode, uid : uid, nid : nid, optionSelected : optionSelected, url_claims : "", href_claims : location.href, referer : location.href, preroll : "", lang : lang, youboraActive : youboraActive, analyticsDBIActive : analyticsDBIActive, dornaAccount : dornaAccount, autoplay : false, alternative : false, skinName : 'motogp' ;
var params = menu: "false", wmode:"opaque", allowfullscreen: "true", bgcolor: "#000", allowscriptaccess: "always" ;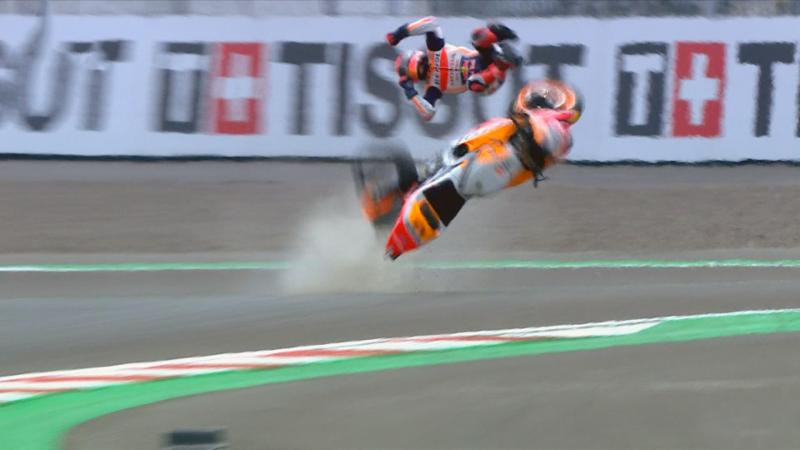 Marc Marquez walks away from huge Turn 7 highside 20/03/2022
The much-anticipated MotoGP™ race in Mandalika gets going at 15:00 local time (GMT+8) – don't miss it!
Top 10:
1. Fabio Quartararo (Monster Energy Yamaha MotoGP™) – 1:32.001
2. Maverick Viñales (Aprilia Racing) + 0.407
3. Miguel Oliveira (Red Bull KTM Factory Racing) + 0.459
4. Marc Marquez (Repsol Honda Team) + 0.514
5. Takaaki Nakagami (LCR Honda Idemitsu) + 0.692
6. Johann Zarco (Pramac Racing) + 0.717
7. Enea Bastianini (Gresini Racing MotoGP™) + 0.731
8. Alex Marquez (LCR Honda Castrol) + 0.735
9. Marco Bezzecchi (Mooney VR46 Racing Team) + 0.746
10. Aleix Espargaro (Aprilia Racing) + 0.765 
var videoContainer; var modeAnalytics = false; var mode="demand"; var nid="410978"; var livetest= true; var lang = "en"; var messageToWatch = ""; var extendedMode = true; var optionSelected = "0";; var youboraActive = true; var analyticsDBIActive = "true"; var optionMeta="hdn"; var dornaAccount = "dorna"; var broadcaster = "0"; var claims_url = ""; var noRegister = ""; var subscribe = ""; var urlMeta = "";
// var externalbalancing = true; //get value from perms
window['flashvars_410978'] = multilive_url : '', broadcaster : broadcaster, optionMeta : optionMeta, baseURL : base_url + "/", secureURL : "https://secure.motogp.com" + "/", to : "", streamType : mode, uid : uid, nid : nid, optionSelected : optionSelected, url_claims : "", href_claims : location.href, referer : location.href, preroll : "", lang : lang, youboraActive : youboraActive, analyticsDBIActive : analyticsDBIActive, dornaAccount : dornaAccount, autoplay : false, alternative : false, skinName : 'motogp' ;
var params = menu: "false", wmode:"opaque", allowfullscreen: "true", bgcolor: "#000", allowscriptaccess: "always" ;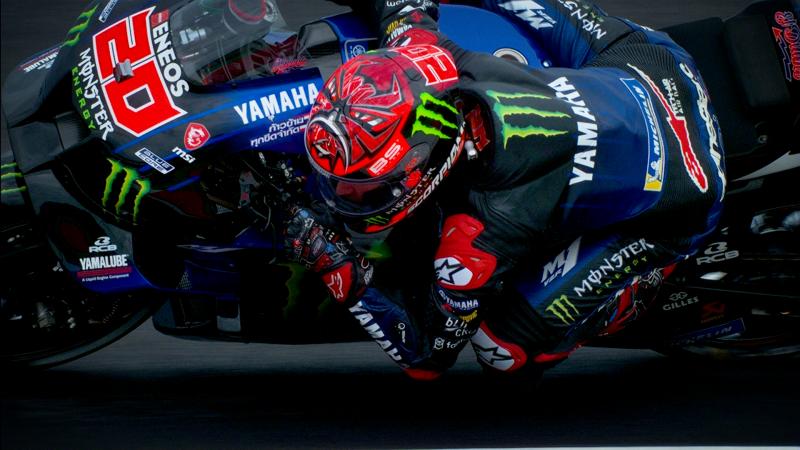 COMING UP: Who will make history at Mandalika? 19/03/2022