Pressure off: "I'd really like to fight with him"
Five riders, including the new World Champion and Bagnaia, previewed the weekend that lies ahead in Portimao
The penultimate round of the 2021 MotoGP™ season has arrived and joining new World Champion Fabio Quartararo (Monster Energy Yamaha MotoGP) in the Grande Prémio Brembo do Algarve Pre-Event Press Conference was closest rival Francesco Bagnaia (Ducati Lenovo Team), Misano P2 finisher Pol Espargaro (Repsol Honda Team), Misano P3 finisher Enea Bastianini (Avintia Esponsorama) and home hero Miguel Oliveira (Red Bull KTM Factory Racing), as the quintet previewed a return trip to the stunning rollercoaster.
Pressure off – now time for a Quartararo vs Pecco battle?
With the Riders title now wrapped up by Quartararo, a lot of the pressure has been lifted off the Frenchman's shoulders for the final two races. The same goes for Bagnaia, who now wants to consolidate P2 in the overall standings, but there's still plenty to play for between the two stand out riders in 2021.
The Constructors and Teams Championships can still be won by Ducati and Yamaha, while pride, confidence and simply enjoying themselves heading into the winter will also be at stake in Portimao and Valencia. With that in mind, Pecco is eager to have an on-track battle with Quartararo before the season is out, with the latter aiming to end his already superb season on a high.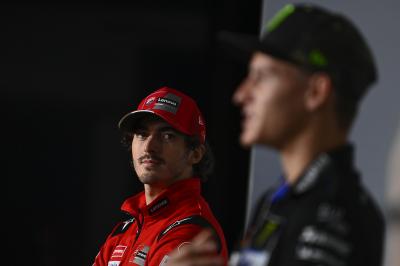 Quartararo: "Honestly I feel – I would not say pressure because I achieved my goal, then I will give my best, of course I come here to fight for the victory and for the podium but it's not something I can really control. I will give my best but we will see the final result. It will be nice to make that (triple crown) and to see if we can achieve it."
Bagnaia: "For sure these two races will be nice to do. Now Fabio doesn't have any pressure. So, I would really like to fight with him, not like in Misano, starting together and fighting together would be nice to have. They are two different tracks. In April/May I was fast here, in Valencia I've never been fast in my life so I have to understand how to do it."
Oliveira hoping for 2020 Portimao repeat, this time in front of home fans
We've visited the Autodromo Internacional do Algarve twice previously in less than a year, but due to the ongoing pandemic, fans haven't been able to enjoy the thrill trackside in Portimao. That changes this weekend though, and Oliveira is hoping to show some good form on a track he loves, in order to end a topsy-turvy season on a positive note.
Oliveira: "Yeah for sure we get to a home GP with a different kind of mentality. Beginning of the season we were having too many problems and the package was not really complete. The conditions were much different from what we had in November the previous season, so definitely we didn't have anything going our way, and now towards the end of the championship even if the result was not finished in Misano, at least I had a good connection back with the bike.
"Already in Texas I found a little bit more of this connection and although if the result is not there the feeling is there, so I think this is the most important thing to build a good weekend. For sure the key is to start tomorrow with this feeling, give good feedback to the team and finish these two last races of the season on a high.
"We have every reason to believe that we can achieve a good result. Of course, it's always depending on a lot of things, but we know that the intention is there, and we have every reason to believe in that direction. The opponents are going to be tough of course, everyone likes this track, everyone who goes fast on it, so it's going to be about adapting better to every situation on the track and especially during the race understanding what is a good line and the normal racing routine at the weekend."
Portimao and Valencia: crucial races for 2022
All is not over in 2021 – far from it. The title may have been decided but the remaining two races in Portimao and Valencia are important for the riders to try and end their years on a high. The Bagnaia vs Quartararo scrap – if we get one – will be thrilling, because both will be wanting to try and beat the other to potentially take a little bit of an edge into the winter.
It also provides the factories with a chance to try some different things on the bikes. This is no more apparent than in the HRC ranks, who are unfortunately without Marc Marquez (Repsol Honda Team) this weekend. Pol Espargaro will be joined on track by test rider Stefan Bradl, with the Spaniard – off the back of his best MotoGP™ result last time out – explaining how he hopes he can have a much better weekend than he did earlier in the year.
Pol Espargaro: "Yeah it's a place where I enjoy quite a lot and in the past year with KTM I performed not bad, for sure it wasn't amazingly good but it was a decent race and I almost finished on the podium. But in the beginning of the year we came here with many many problems, we struggled a lot, I had a big crash at the last corner and I don't have the best memories with the Honda here.
"Anyway I came here during the summer break to train so I have the layout fresher maybe than the others which is nice, also the bike has changed quite a lot from that moment at the beginning of the year. Honestly speaking we have more possibilities to have a great weekend than what we did at the beginning of the year, so really looking forward to jumping on the bike again after the nice vibes we took in the past weekend in Misano.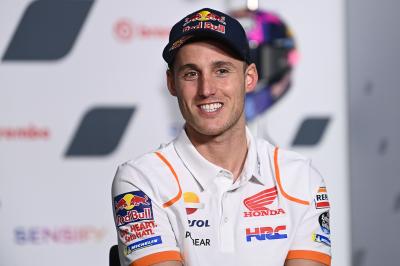 "From the past races I have been, you know, working in that direction thinking that this year is over for me. It was over a lot of races ago, I started to think about the future with Honda, we tried to do that maximum we could with the current package, thinking of next year, trying to generate or copy what we have inside the rules with next year's bike. We had some benefits and some contrasts, we had a lot of problems in Texas and then we come to Misano and we had all the contrasts we had the benefits with the current package thinking about next year.
"There is these pros and cons, thinking about next year, I'm looking to just make a reset. With all the experience and knowledge I have with Honda I sometimes feel quite comfortable and I can achieve great results, start from zero with a good base, and from there try to enjoy the bike. I haven't enjoyed much because I've been struggling quite a lot. The future I think is bright but we have to work harder than the others because we start with a disadvantage."
Every rider will be going all out to finish the season in the best way possible. Tune into MotoGP™ FP1 from 09:55 local time (GMT+0) on Friday morning to see who gets reacquainted with the rollercoaster quickest. 
Every practice session, qualifying battle and race, exclusive interviews, historic races and so much more fantastic content: this is
VideoPass!