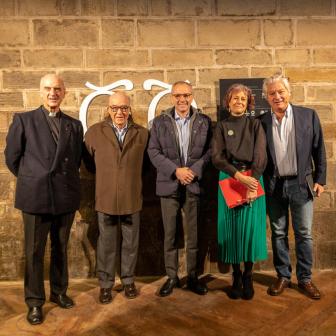 Racing forward: Pamplona hosts MotoGP™ & F1 CEOs
Carmelo Ezpeleta, Paolo Campinoti and F1's Stefano Domenicali addressed the roadmap for each Championship together in Spain
MotoGP™ and Formula One are striding hand in hand towards an increasingly promising future. Dorna Sports CEO Carmelo Ezpeleta and F1 CEO Stefano Domenicali were on stage together to speak about various topics that will help shape the future of motorsport, as well as Prima Pramac Racing boss Paolo Campinoti. 
It was the first time the CEOs of the two biggest motorsport disciplines in the world had attended such an event together, and their day started by visiting both the Jai alai and handball exhibitions at the iconic Labrit Basque Pelota Court. Both then enjoyed a dinner at the Napardi Society in Pamplona, before Ezpeleta and Domenicali shared the stage at the beautiful Cathedral in Pamplona.
Ezpeleta explained how "the motorsport world has been one of the main sources of innovation", addressing topics such as safety and sustainability, while detailing the success of MotoE™ and the route to zero carbon fuel.
Domenicali, for his part, explained how F1 focuses on "the sports and entertainment project." Also very aware of the needs in terms of sustainability, Domenicali delved into the need to explore new markets and celebrated the "great success" of having a Grand Prix in Miami this year and the next new venue being none other than Las Vegas. "Improving the offer" is always a key premise and Domenicali, thinking of new generations, explained that "young people need intensity, frequency and content."