Racing Together for 30 years and 500 GPs
It's set to be a landmark moment in MotoGP™ as Dorna Sports, MSMA, IRTA and the FIM celebrate the milestone event at COTA
This weekend's fixture in Austin not only represent the fourth round of the 2022 MotoGP™ World Championship, but also the 500th Grand Prix from the Racing Together era. The collaboration between the FIM, IRTA, MSMA and Dorna Sports has seen motorcycle racing reach new audiences and grow even further since their very first GP together in 1992.
Since that initial race in Suzuka, we have seen 30 seasons of competition across six solo motorcycle classes with the 125cc, 250cc and 500cc categories eventually becoming Moto3™ (2012), Moto2™ (2010) and MotoGP™ (2002). The paddock has visited more than 20 countries, with new destinations still coming, while 55 riders from 12 countries have won at least one World Championship. 29 riders have been crowned lightweight class Champion, with 24 taking the intermediate class honours and 12 premier class Champions.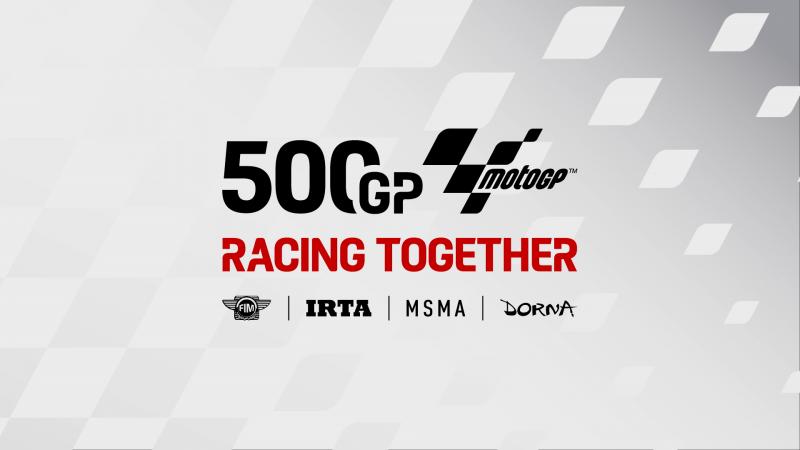 Celebrating 500 GPs together 05/04/2022
Recently retired MotoGP™ Legend Valentino Rossi leads the roll of honours from the Racing Together era, with nine Championships; one title in the 125cc, 250cc and 500cc classes and six MotoGP™ crowns. Marc Marquez (Repsol Honda Team) isn't far behind with eight; one 125cc, one Moto2™ and six MotoGP™.
Mick Doohan's stunning run of five premier class crowns in a row from 1994 to 1998 makes him the most decorated 500cc Champion of the era and one of the riders with third most titles, equal with Jorge Lorenzo on five. The Spanish soon-to-be MotoGP™ Legend has two 250cc crowns and three MotoGP™ World Championships. Casey Stoner and Valentino Rossi are the only two riders to have won premier class titles with two different factories during the era.
It truly has been an unforgettable 30 years of motorcycle racing, and here's to at least another 500 Grands Prix!