Repsol Honda Team Manager reacts to Spanish GP
Alberto Puig has offered his thoughts on the opening MotoGP™ race of 2020, which saw Marc Marquez crash and Alex Marquez finish P12
In the aftermath of the dramatic Gran Premio Red Bull de España, Repsol Honda Team Manager Alberto Puig offered his thoughts on Marc Marquez' race and the latest on his condition.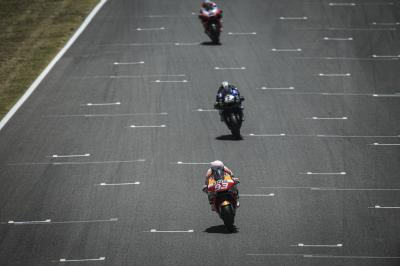 What was the strategy for the race in Jerez?
"The strategy was to start well and try to lead the whole race until the end. That's what happened until Marc ran off the track after a few laps. We didn't expect that. The priority for Alex was to finish the race and his second priority was to finish close to the group of riders that were in front of him fighting for the points. It's a good result for his first race and we're all pleased for him."
What are the positive and negative points after the race?
"Well, the negative point is obvious, Marc's injury. This is really negative. When you have an injured rider, there's almost no positive. But on the other side, we all saw and understand Marc's level. In Qatar, there were some doubts about Marc's performance. Now it's clear that there isn't a single doubt about this. His Honda RC213V and the rider himself are clearly two steps ahead. He wasn't just a bit faster, he was much faster than all of the others. The difference, like it or not, is that he's getting better year after year."
How was it watching the race from the pitlane?
"When Marc ran off track, he needed two laps to regain his concentration. But we saw that he was going to catch all of the riders he had in front of him. If he'd have had four or five more laps, he could have caught Quartararo, as Marc was going a second faster each lap. We know what kind of rider we have. On Sunday he, once again, showed who he is. But now he's injured and he has to rest, focus on fixing his arm and when he's ready, go back to fight for the victory. These things happen when you're Marc Marquez, he does exceptional things. He has nothing to regret; our team has a tremendous amount of respect and admiration for what he does."
Any other comments aside from the official statement?
"It was a very strange weekend, without fans in the stands and in the paddock, but we adapted to that situation. The organisers did a good job with the coronavirus prevention protocol. We all followed the rules and everyone is safe in the paddock. The Repsol Honda team and HRC did very well to prepare everything and change our routines to fit Dorna's instructions. I want to express my gratitude once again to all of our sponsors, friends and those who continued to support us during this time in which we were unable to compete. Now we face the challenge of Marc's injury, but this is racing, we're a strong team and somehow we'll get past this."
Every practice session, qualifying battle and race, exclusive interviews, historic races and so much more fantastic content: this is
VideoPass
!