Rossi: "I feel good with the bike"
The Doctor was in good spirits after the Qatar Test but admits there's work to be done if a victory challenge is on the cards
P12 on the 2020 Qatar Test timesheets doesn't paint the prettiest of pictures for nine-time World Champion Valentino Rossi (Monster Energy Yamaha MotoGP), but all isn't as bad as what it may seem at a glance.
Support for this video player will be discontinued soon.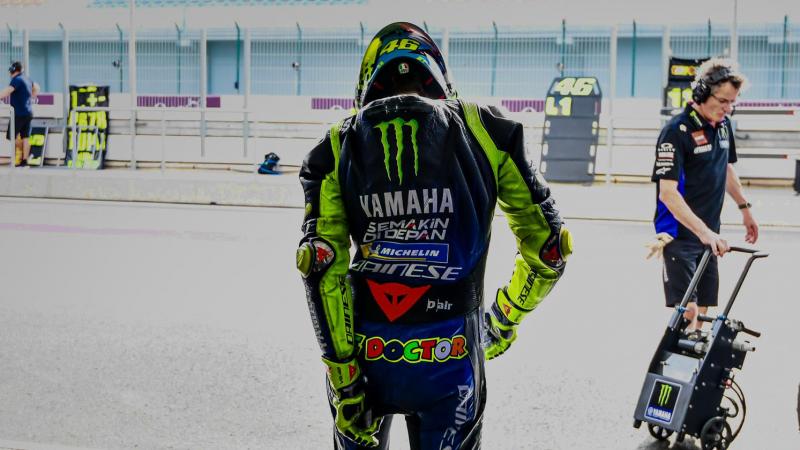 Rossi: "It's like Moto2 - this is great for the fans" 24/02/2020
A crash on the final day at the notorious Turn 2 wasn't what The Doctor ordered, with Rossi out on a tyre that he says could have improved his overall lap time. On the long runs, the 41-year-old had a similar story to what he had to tell last year – suffering with the tyres the main downfall at the moment. Despite this, Rossi said his feeling on the bike is "very good" and in the opening five/six laps, his pace is pretty much where he'd like to be.
"Today we are a little bit worried, not for the position because unfortunately I crashed with the second tyre and I think I can improve the lap time," began Rossi, reflecting on the three days in Qatar. "But more for the pace, we tried to make some long runs but we suffered with the tyres, very similar to last year. So laps, unfortunately, I have to slow down which is not good news. But now the test has finished, we will see during the real race weekend, in the race it is always different, we will see.
Support for this video player will be discontinued soon.

Qatar Test - Day 3 recap: Maverick crowned Qatar Test King 24/02/2020
"I feel good with the bike. I'm quite fast, especially in the first five, six laps my pace is good. Unfortunately it's not enough to try for the win. This winter test Rins, Viñales and Quartararo are very fast, also Franco (Morbidelli) today, also Marquez at the end. But we are not very far. So the feeling with the bike is very good."
It's a good omen for Rossi that three Yamahas top the timesheets. It shows the potential in the bike is there if he and the team can solve the tyre woes they're currently encountering. And even then, Rossi was only four tenths off the pace – not exactly a disaster. As the man himself said, the race weekend is always different and this preseason saw Rossi go three tenths faster than he did at the 2019 Qatar Test. Never count out a nine-time World Champion, especially when they aren't very far off the pace.
Fancy keeping up with all the 2020 preseason testing action and the 2020 season proper? Look no further than 
VideoPass
!