Sepang Test tech round-up: what new parts were spotted?
A factory-by-factory in-depth look at what we saw break cover at the three-day pre-season Test in Malaysia
The 2023 MotoGP™ Sepang Test was always going to be a fascinating watch, with the factories putting their winter hard work into motion for three days of rigorous testing in Malaysia. But what did we see? Let's have a look, factory-by-factory, at the main tech talking points that were spotted at the Sepang International Circuit. 
There were no huge updates for the reigning World Champions at the Sepang Test. Then again, why would there be? Small tweaks were the name of the game in the Bologna factory, including a new engine that Jorge Martin (Prima Pramac Racing) felt was a good step forward than the 2022 engine. Francesco Bagnaia and Ducati Lenovo Team teammate Enea Bastianini commented that the difference between the new engine and the one they raced in – Pecco on a '2021.5' spec and Bastianini on the 2021 spec – was smaller.
In terms of Ducati's updated aero package, the updated front fairing wings are a little bigger and the front fairing shape also differs from the GP22 – it's narrower and slightly taller. The side fairing is where we saw Ducati playing around a lot.
At the Valencia Test they brought Aprilia's ground-effect aero to the table. In Sepang, there was an updated version of Ducati's interpretation. In the last two seasons we've seen Ducati riders racing with the downwash ducts, which have undoubtedly contributed to making the Desmosedici a much sweeter handling motorcycle. The benefit of the bigger side fairings is they reduce drag – something the downwash ducts don't do. It'll be interesting to see which direction Ducati go in for 2023 in this area.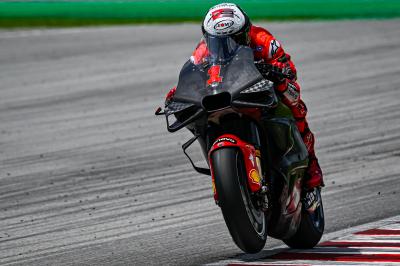 Aprilia's 2023 RS-GP is a completely revised machine from 2022. A new chassis, swingarm, tail unit and updated exhausts were a few of the things spotted at the Sepang Test, while a new 2023 engine specification will arrive for the Portimao Test.
Aerodynamics have been a hot topic of discussion in MotoGP™ for a number of years now, but it seems 2023 is the year where manufacturers are really raising the stakes in that department. Aprilia's updated ground-effect side fairings that feature more detail suggest the Noale factory have fine-tuned them for greater performance.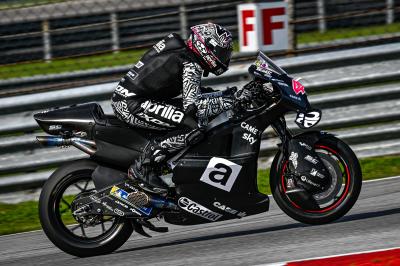 Aprilia's wings were updated too. On their debut in Sepang we saw that they were largely similar to the standard wings that Aleix Espargaro and Maverick Viñales raced in 2022, but there were some subtle differences. This specification had a little more detail and some surface area trimmed off them, leading us to think that they aren't there to produce less downforce, but instead to produce the same amount of downforce from a smaller surface area. This would create less drag, enabling the bike to be less physical to ride.
The main subject to keep an eye on at the Portimao Test will be Aprilia's 2023 engine upgrade. They've only got two days to pinpoint whether it's the direction they want to take or not, so expect Espargaro and Viñales to be very busy.
As we know, the Sepang Test was critical for Honda. It was for all the manufacturers, but the Japanese giants need to make a big step in 2023 if a return to title-challenger status is to be achieved.
The 2023 development bikes had lots thrown at it, including two different chassis, two different aero packages, a new air intake, a new seat and tail unit, while Honda also joined the ground-effect fairing game. They were also continuing to test with the downwash ducts.
Throughout the Sepang Test, Joan Mir (Repsol Honda Team) was lapping with two RC213Vs in his box. At one stage, teammate Marc Marquez had four, with one of them being a new, experimental bike. This understandably caught a lot of attention. Simplified, the big differences were the bike had the 2021 aero package that Marquez finished the season with, and it also had a different aluminium swingarm.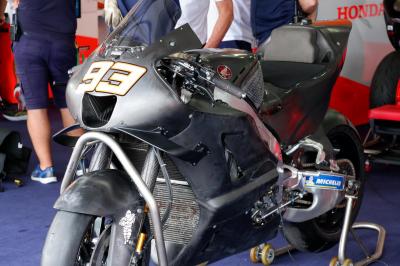 However, on the third and final day, the World Champion duo had two bikes that looked identical to each other – and one of the more intriguing parts was the chassis differences. From the naked eye, it's tricky to spot the differences. Essentially, there's one less weld and the swingarm pivot has a slightly different setup – it'll be where we can't see that the big changes occur. Notably though, this newer chassis is the one both Mir and Marquez decided to do their time attacks on.
Expect HRC to be bringing more new components to the table at the Portimao Test. Repsol Honda Team Manager Alberto Puig admitted they need to improve "many, many things" before the season properly gets going at the end of March, so those couple of days creeping over the Algarve horizon are going to be massive.
The KTM and GASGAS riders were also busy testing aero upgrades in Sepang. In fact, they had three aero packages to run through – the standard 2022 version, the update we first saw break cover at the Valencia Test that featured the ground-effect fairing, and then a new one they brought to Sepang which was similar to the Valencia Test version.
Arguably the most interesting aero design was spotted in both the Red Bull KTM Factory Racing garage and in Pol Espargaro's side of the GASGAS Factory Racing Tech3 box. Usually – as we've discussed in this article – factories run either the ground-effect fairing or downwash ducts. Not at the same time. However, this is what we saw Brad Binder, Jack Miller and Pol Espargaro testing in Sepang.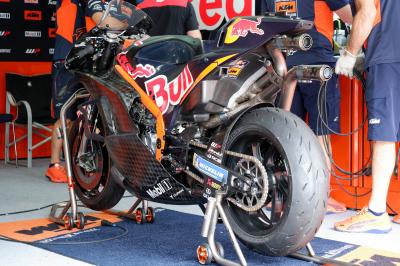 A new engine was also tested, as well as more than one chassis. The latter seemed to be a positive step forward for Binder, but he's looking for one that meets in the middle of both as one allowed for better turning, while the other enabled better braking.
Let's start with the main topic of conversation surrounding the Iwata factory: the 2023 engine. Sepang confirmed that Yamaha had made the vital step they were looking for with extracting more horsepower from their engine for the upcoming season. Fabio Quartararo (Monster Energy Yamaha MotoGP™) was consistently up the sharp end of the top speed charts, and hearing from the Frenchman and teammate Franco Morbidelli, it seems the engine specification has already been decided for 2023.
Now we'll delve into the deck of cards Yamaha brought to the aerodynamics poker table. There were two new aero updates in Sepang, one of those boasting big wings and sidepods – and bigger wings mean greater downforce. Yamaha haven't been able to use as bigger wings as most of their competitors in recent years due to their lack of horsepower. However, now they've found more grunt, running more downforce won't be such a hindrance to their performance.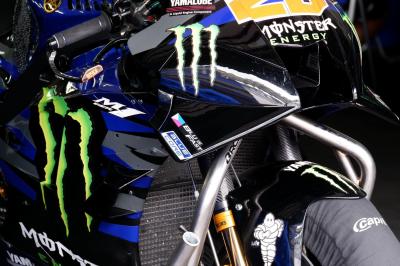 Quartararo and Morbidelli also had some updated chassis to test. Team Manager Maio Meregalli admitted that trying to rediscover their turning mojo has been an important focal point in pre-season, so the two days in Portimao will be crucial in getting through the testing plan for both the chassis and swingarm, as well as putting the aero package through its paces on a new circuit.
The most concerning news from the Malaysian outing was Yamaha's inability to find any sort of performance on fresh tyres. Quartararo labelled his time attack attempt as a "disaster", so this is something they'll desperately be trying to work out and fix before the season gets underway.
For regular tech updates, head across to our MotoGP™ Tech Facebook group! Now, we wait patiently for the two-day Portimao Test.