Simon Crafar: "Anything can happen from here"
Former GP winner and motogp.com pitlane reporter, Simon Crafar, joined the MotoGP™ Podcast to review the 2022 season so far
A couple of days after the dust had settled on the Motul TT Assen and therefore the first 11 races of the season, Simon Crafar joined hosts Fran Wyld and Elliott York on the Last on the Brakes Podcast to wade through all the major talking points from the 2022 season so far.
The guys went through every factory at length, detailing where it's gone right and wrong ahead of the summer break. Crafar – as always – spoke brilliantly and explained what he saw in the biggest talking point from Assen: Fabio Quartararo's (Monster Energy Yamaha MotoGP™) crash. And, for that exact reason, why we can't ever say a title race is over until it's over. Especially at such an early stage of the season.
"You can't count on someone winning the Championship at half distance, like back in Germany when Pecco had fallen off, and Quartararo had such a lead because anything can happen – like what happened to Rins in Barcelona," said Crafar.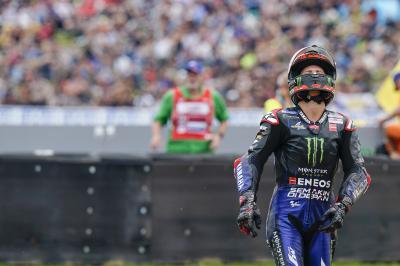 "So there's a lot of points to go and I think anything can happen from here. But I've got to say Aleix is doing a such an amazing job and I'm sure we'll come to that, and I wouldn't be surprised if Pecco does what he did last year, storms back in the second half of the season. So I think there's still lots to come.
"To go on Fabio's mistake, Aleix put it really well and it was interesting. I saw impatience. Because of Bagnaia getting away at the front, they were marching towards him and pulling him back in, I think both Fabio and Aleix had the itch pace wise, but either way we were going to see a good scrap you know, it was going to turn into something really interesting so I'm sad that didn't happen.
"I think I saw impatience from Fabio but Aleix put it another way. Aleix was on form there and doing that Turn 5 faster than the opposition, and he thinks Fabio misjudged so badly because of Aleix's speed there. Fabio thought he could whip in front where Aleix was damn fast there, faster than the other guys that Fabio would have passed there. And I've got to agree that Aleix was so fast because he was… he's surprised me all season but that was the first race he was faster than everyone.
"He said his bike was fantastic, he said it about three times that the bike was just wonderful, especially through the last fast left, he was carrying more speed than everyone and he said that's why he could get so close for the chicane overtake, because he carried so much speed through that last fast left. But the bike can't take all the credit, Aleix is really doing the job and he's amazed me all year, but that one was awesome because like I said, he was faster than everyone."
To watch the Podcast, head over to Twitch! And if you'd prefer to listen to the latest episode and any you may have missed, head to your preferred streaming platform.
Get involved on social media by using #MotoGPpodcast, with the next Podcast coming up after the British GP.